Archive for October, 2009
Publisher of the Observer Newspapers, Kyle Taylor, honors a deceased colleague who was a community newspaper pioneer in Central Florida.
Feature length – 03:50
Read the rest of this entry »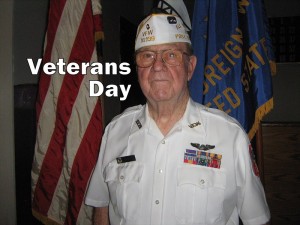 Harley M. Jones, at age 86 is a decorated battle veteran living in Chuluota. Jones served 23 years with the Army Air Corps and shares his story of courage and survival in the skies over Europe in World War II. He is one of the shrinking group of heroes from that war but his story honors all those who have served in our military branches throughout our history to defend the United States of America. Feature length – 21:32
Read the rest of this entry »
The 2 candidates for mayor and the 3 candidates for city council in Oviedo make the final push in the campaign before the Nov. 3 elections. Before casting your vote, listen here to their unedited personal statements.
Feature length – 10:08
Read the rest of this entry »
A smart voter is an informed voter and Dr. Michael Hoover, professor of political science at Seminole State College, describes factors shaping municipal leadership. Professor Hoover's interview covers topics ranging from the impact of local government leadership on citizens to how residents can measure the quality of the elected city leaders.
Feature length – 25:47
Read the rest of this entry »
With the election set for November 3rd, the four candidates for city commission in Longwood make their personal appeal for your vote. Each candidate is presented in a brief, unedited statement in the order they appear on the ballot.
Feature length – 09:17
Read the rest of this entry »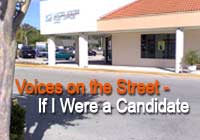 Will Rogers said "The best thing about this group of candidates is that only one of them can win." Local "voices" explain how they would craft their platforms and campaigns if they were running for city office. Listen and decide if you would pick one of them to "win."
Feature length – 05:22
Read the rest of this entry »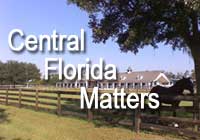 Welcome to the 4th edition of Central Florida Matters, posted on 10/29/09. Voting Smart continues with a voter appeal by the 9 candidates in the November 3, 2009 elections in the cities of Oviedo and Longwood. Dr. Michael Hoover, professor of political science at Seminole State College, discusses the factors shaping municipal leadership and Voices on the Street take on the role of candidates. The publisher of Observer Newspapers offers a commentary and a local war veteran remembers the trauma and comradeship of battle as we recognize Veterans Day. Listen here to the full program in a traditional radio-style format.
Full program length 1:22:12
---
(Presented and hosted by Stephen McKenney Steck and Desta Horner)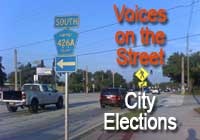 "Democracy is cumbersome, slow and inefficient, but in due time, the voice of the people will be heard and their latent wisdom will prevail." Given the upcoming city elections, it seems appropriate to put this unattributed quote to a test with voices recorded randomly on a recent Saturday morning at the Oviedo Shopping Center.
Feature length – 05:09
Read the rest of this entry »
Seminole Chronicle newspaper managing editor, Michelle Yoffee, comments on news that matters to her.
Feature length – 03:52
November 3rd is an important date in the life of 5 Oviedo candidates who are running for election or reelection for positions as Mayor or Councilman. The Council governs the activities of a city that was incorporated in 1925 and today is ranked as the 4th largest of 7 cities in Seminole County.
Feature length – 40:14
Read the rest of this entry »