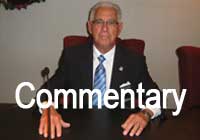 A feature of every
Central Florida Matters
is a 3-minute commentary presented by a voice that matters on an issue that voice believes matters.
The voice you'll hear next is that of John C. Maingot, Mayor of the City of Longwood commenting on the on the mayor's role in his city's government. Length - 4:04
---
(Commentary remarks by John C. Maingot, Mayor of the City of Longwood)
Central Florida Matters encourages you to post your own reaction to this commentary. Visit the "commentary" segment on-line at cmfmedia.org. While there you'll find useful links related to the commentary, including a transcript, biographical information and related pictures.
Should you wish to be considered for a commentary segment on Central Florida Matters, please click on the "contact" link to send us an email which should include adequate information for us to understand your issue. And please include a daytime telephone number where we may reach you.
Pictures
Click on the picture(s) to enlarge.
Additional Feature Information