Archive for January, 2010
City of Oviedo, Fl mayor, Mary Lou Andrews, and Winter Springs, Fl mayor, John F. Bush present their annual State of the City address and respond to follow-up questions from a luncheon audience of members of the Oviedo-Winter Springs Regional Chamber of Commerce and members of the public. The event was recorded Thursday, January 21, 2010.
Key issues addressed by the mayors in their remarks include: budget reduction issues, joint economic development initiatives between the cities, progress on Seminole Way, Home Rule, and Oviedo's charter review committee. In questions posed by chamber members, the mayors respond with answers about the "new" downtown Oviedo, incentives used to attract new businesses to each city, the scope of services under which Land Design Innovations, Inc. works and a lengthy exchange with members regarding the current status and future of the Oviedo Market Place Mall. Feature Length — 49:03
---
On Wednesday evening January 13, 2010, in front of an audience of 65 interested members of the public gathered at Winter Springs High School, key Seminole County public school educators were hosted by the Seminole County League of Women Voters. Each educator described their state funding priorities as they prepare to make their case with state legislators for the coming fiscal year. Members of the media were also in attendance and invited to ask questions. Educators responded to those questions as well as those written by audience members.
The panel includes Seminole County School Board member Dede Schaffner; school superintendent, Dr. Bill Vogel; Seminole County Parent/Teacher Association president Judy Wiant; and Seminole State College vice president and chief financial officer, Joseph A. Sarnovsky. The panel is moderated by Marilyn Crotty, director of University of Central Florida's Institute of Government. Feature Length — 01:20:55
---
A feature of every Central Florida Matters is a 3-minute commentary presented by a voice that matters on an issue that voice believes matters.
The voice you'll hear is that of Dr. Bill Vogel, Superintendent, Seminole County Public Schools, commenting on why a quality education for your children matters.
Feature length – 03:54
Read the rest of this entry »
Seminole county public schools and Seminole State College receive a portion of their budget from the State of Florida. Local leaders from both institutions are making their case and stressing their funding priorities to state education officials and the local legislative delegation for a new budget to fund a portion of their expenses. In this feature, Central Florida Matters presents an edited version of a recent forum hosted by the League of Women Voters featuring presentations and answers regarding the educators' funding priorities.
Feature length – 28:07
Read the rest of this entry »
The 2009 Martin Luther King Day Parade gave Oviedo, Florida residents an opportunity to celebrate the civil rights leader's achievements and to cheer and applaud the 34 groups who marched. Both marchers and watchers share their feelings about the holiday in their own words. Feature length – 06:30
Read the rest of this entry »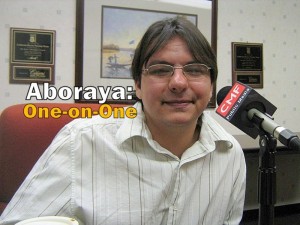 Kicking off Central Florida Matters' coverage of local issues surrounding the upcoming 2010 elections, Steve visits 1-on-1 with Seminole Chronicle community newspaper reporter, Abraham Aboraya, to assess local political issues, particularly at the city level. Feature length – 17:05
Read the rest of this entry »
Gabriella was a small thriving community from 1880's to 1930's. Newspaper accounts from those years give insight into life in early Florida. Descriptions of a wedding, a ride on the "Dinky Line" and work in the Turpentine industry provide a glimpse of that era. Gabriella was located on Aloma Ave. just south of Oviedo, Florida, where the Seminole Historical Commission dedicated a marker in December 2009. Feature length – 13:55
Read the rest of this entry »
Welcome to the 8th edition of Central Florida Matters, posted on 1/21/2010 and featuring the history of Gabriella a small town once located between Oviedo and Goldenrod, Florida that has disappeared into the past ,a 1-on-1conversation with Seminole Chronicle reporter, Abraham Aboraya assessing local political issues surrounding the pending 2010 elections, Martin Luther King remembered by voices on the street, an overview of school funding priorities, and commentary from Seminole County's public school superintendent. These are the issues and voices you'll hear in a traditional radio-style format on this complete version of Central Florida Matters.
Length — 1:16:43
---
Presented and hosted by Stephen McKenney Steck and Desta Horner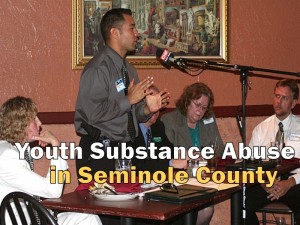 A circuit court judge, a Seminole County Sheriff's Office investigator, a gang specialist, an assistant state attorney and an elected official who was once a troubled teen discuss strategies used to deal with young people in Seminole County who are arrested on drug charges. Feature Length — 1:02:33
---
Presented by League members Jane Lane and Stephanie Schott. The 5-person panel is moderated by Wayne Weinberg.