Archive for September, 2010
Commenting on non-competitive local elections in Seminole County is Dr. Michael Hoover, Professor of Political Science, Seminole State College. Feature length – 03:48
---
Two months into his new job – Dominic Persampiere has long term plans for the short term he has remaining to serve as the new mayor of the City of Oviedo. He addresses those plans in part-2 of an interview recorded within weeks of him being thrust from deputy mayor to mayor as a result of the unanticipated and abrupt resignation of former mayor Mary Lou Andrews.
Feature length – 25:41
On the November 2 ballot, Seminole County, Florida voters will be asked to decide on a referendum to provide a ½ cent sales tax for building repairs and technology for the schools. School board chairman Sandy Robinson urges support for the proposal. Grant Maloy, founder of Six 4 Seminole, argues against the tax.
Feature length – 28:59
A city's charter is its constitution. It is reviewed periodically by a committee of residents. They propose amendments to city council. Those amendments are often grouped into categories — called "housekeeping" and "substance." Such labeling can result in complications when coincidence and interpretation sets in. And that is what seems to be happening in the City of Oviedo, though the city doesn't see what all the fuss is about. Stephen Schenck, a member of the Oviedo council comments on this fuss.
Feature length – 18:32
Oviedo city council member Stephen Schenck responds to allegations former Oviedo mayor Mary Lou Andrews makes in a feature CMF Public Media posted called "Andrews: Revenge or Justice?" which reflected in her words her journey from being mayor to now being the "former" mayor.
Length – 16:44
Hear remarks offered at the Oviedo-Winter Springs Regional Chamber of Commerce members' luncheon on the subject of business incubation in Central Florida. The speakers are Dr. Tom O'Neal, director of the University of Central Florida's Technology Incubator and vice president for research and commercialization at UCF; Robert Goetz, certified business analyst at Seminole State College's small business development center; and, Gary Bonner, representing a local company benefiting from a business incubation initiative. Mr. Bonner is chief marketing officer for imediaReach, a Winter Springs, Florida company that provides clients mobile marketing services and text message campaigns.
Feature Length — 50:25
Read the rest of this entry »
Hear remarks from 2 subject matter specialists from Orange County Public Schools address how public education is funded in Orange County. Rick Collins – chief financial officer of Orange County Public Schools and Dr. William Gordon – executive director of the county's East Learning Community and a former principal of Winter Park High School discuss the formula used by the state of Florida to determine which counties gets how much funding… how the funds are spent at the state, county and local level… and what this all mean to you– the parent, the caregiver and the taxpayer – and particularly the student. Feature Length — 00:59:57
---
US Currency: photo courtesy Adrian van Leen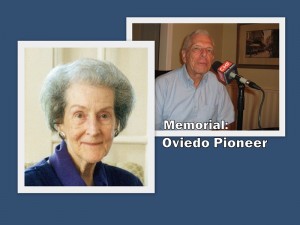 Memorializing the life of Oviedo, Florida pioneer, Clara Lee Wheeler Evans, is Dr. Richard Adicks, professor emeritus of the University of Central Florida and co-author of Oviedo: Biography of a Town.
Length — 4:00
What is it like being an immigrant in Central Florida today? Ruth Strakosha is now a citizen of the U.S. but like generations before her she remembers the challenges of becoming an American.
Feature length – 14:53
Former deputy mayor of the City of Oviedo, Florida — Dominic Persampiere – is the new mayor of the city as a result of the resignation of the former mayor. Hear his perspective on why he thinks he's qualified for the position, how he learned of the mayor's resignation, the differences in his leadership style vs. the former mayor, the city's budget, staff reductions, reducing overtime among public safety staff, and his explanation of the proposed city charter amendments.
Feature length – 29:53