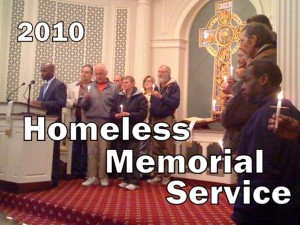 Hear remarks offered at the 9th annual Homeless Persons' Candlelight Memorial Service…held to recognize and pay tribute to 35 Central Florida persons who died homeless during 2010. The service was held on December 21 – the first day of winter and the longest night of the year…symbolic in its representation of the long nights spent unsheltered by those who have no home to go to. Feature Length — 43:06

---
The death of thirty-five homeless persons and two advocates for the homeless are recognized during this service held in the chapel of First Presbyterian Church in downtown Orlando, Florida. Nearly 100 homeless people plus advocates and care givers sat side by side as the names of each decedent were called and eulogies offered.
As you listen to this service, which lasts 40-minutes please note that the this webpage offers you relevant and helpful links to material regarding homeless issues, each principal speaker, a series of still pictures taken at the event in an on-line slide show, plus an archive of other podcasts Carroll McKenney Public Media has featured on local homeless issues.
In addition to hearing 9-homeless persons paying direct tribute to their friends during this service, you will hear the remarks of 2 principal eulogists – Robert Stuart, an Orlando city commissioner, as well as community advocate, Jackie Dowd, as they memorialize George Crossley and Steve "Rocky" Cook for the care and attention each provided to the homeless community during their lifetime. A proclamation will be offered by city clerk Alana Brenner on behalf of Orlando Mayor Buddy Dyer. The ceremonial "reading of the names" of each deceased homeless person will be spoken by Bakari Burns, Chairman of the Board of the Homeless Services Network of Central Florida, the regional organization initiating the event each year. Cathy Jackson, executive director of HSN leads the service. First Presbyterian's associate pastor for mission and evangelism, Dr. Case Thorp, begins the 9th annual Homeless Persons' Candlelight Memorial Service with a scripture reading and a prayer.
Those We Honor
Cathy Jackson
"We commemorate the lives of the homeless individuals who died on our streets or in our emergency shelters from illness or conditions directly related to their homelessness. In many cases, this service will be the only remembrance of their lives.
Some of the people we remember this morning died because our mental health system is overburdened and could not provide them with the care and support they needed to cope with mental illness. Others died because they could not navigate the complicated maze necessary to receive treatment for their addictions. Still others died because of a lack of access to medical care. Some were veterans who somehow slipped through the safety net that our country promised to provide them. Four were murdered while the slept on the street or in a camp. Three were hit by cars in the street, including one person in a wheelchair who died after being run over on Sand Lake Road. Two committed suicide.
For all of them, though, it was ultimately their lack of a home which has added their names to the list we read this morning."
The List…
Adrian Acevedo
Connie Asbury
Teri Lee Brookshire
Gene Camera
Albert Capps
William Phillip Capps
Brenda Davis
David Dotterer
Jonathon Wayne Duck
James Evans
James Fisher
Arturo Miguel Garcia
Timothy Giedlin
Jay Girard
David Glenn
Lois Ann Gyermoti
Keith Hess (known as Stacey)
Heide Hewett
Alex Hale
David Hills
"J.R."
Bernard King
Daniel Martin Jacobs (known as Chief)
Alan Martin
Joe Mitchell
Gerald Ramsey
Susan Roa
John Robicheaux
Michael Self
Phillip Tanner
Jerry L. Thomas
Sherry Tyner
Bradley Watson
John Handzlik (known as Mohawk)
Wendell Wright
Heather Young
And…
Key Participants
Bakari Burns

Chairman of the Board of the Homeless Services Network of Central Florida And, President/CEO, Health Care Center for the Homeless

Cathy Jackson

executive director, Homeless Services Network of Central Florida

Robert Stuart

Orlando city commissioner, district # 3, and
Executive director, Christian Service Center

Jackie Dowd

community advocate

Alana Brenner

Clerk, City of Orlando

Dr. Case Thorp

associate pastor for mission and evangelism
Pictures
After you launch the slideshow below, click "Next" and "Previous" to rotate through the photos.

Links to podcasts produced by CMF Public Media addressing homeless issues
Other Useful links to issues surrounding homelessness