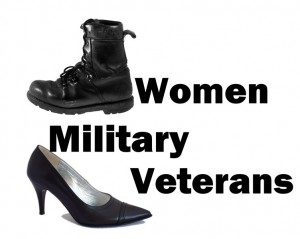 Hear about the issues Seminole County, FL., women military veterans face in the transition from active military duty to civilian life. Speakers are Laurie Reid, a local US Navy veteran now in civilian life as a counselor at Seminole Behavioral Healthcare, and a non-veteran, Venita Garvin Valdez, who is helping lead Joining Forces for Women. Length 59:41
---
Event Photos – Charles E. Miller for CMF Public Media
Title Photo ("Black women shoe" - Margarit Ralev) & ("Army boot" - Andrzej Pobiedziński)
Venita Garvin Valdez speaks for first 10-minutes on the role of the foundation's history and their special interest in women military veterans.
Laurie Reid offers 16-minutes of remarks on the specific aspects of being a female military veteran and the services and support of such veterans in Seminole County.
Valdez' and Reid's remarks are followed by 21-minutes of their answers to 11 questions you'll hear asked by league members and guests. Those questions address issues related to steps local citizens and organizations may take to assist local women military veterans, and recommended sources women veterans may call upon for assistance and support.
Below, are helpful links to on-line content regarding issues addressed by each speaker…as well as an on-line slide show of photographs taken at the event by CMF's event photographer, Charles E. Miller.
To the uninitiated non-military listener there is a limited amount military jargon and acronyms spoken during this presentation. Here's a very quick primer on three of them for you…
The acronym – OIF and OEF – stands for "Operation Iraqi Freedom" OIF… and "Operation Enduring Freedom," OEF.
The event descriptor, "stand down" is a term which originated in the Vietnam war. When front line soldiers returned to base camp, they would "stand down" for a brief period of time to address mostly personal business before returning to the front-lines. Today, "stand down" refers to bringing local homeless military veterans together — often at a special community event which provides the veterans with medical doctors, dentists, and lawyers, as well as haircuts, showers and new clothes. Importantly, counselors are present to assist the veteran not only in transitioning from military to civilian life, but in moving back to society from the streets of homelessness.
"Boot camp" describes a military training culture or experience for new recruits undergoing basic training in military service.
This event was presented by the League of Women Voters of Seminole County as part of their Hot Topics luncheon series. It was recorded at the Patio Grill in Sanford, Florida, on Thursday, November 17, 2011. League member and 2nd vice president, Zelda Ladan, facilitated the event.
Principal Speakers
Venita Garvin Valdez

A non-veteran and CEO of Domestic Abuse Shelter, Inc. member of the board of the national Business and Professional Women's Foundation

Laurie Reid

US Navy veteran, and director of clinical quality improvement & utilization management, Seminole Behavioral Healthcare.
League of Women Voters of Seminole County host and facilitator:
| | |
| --- | --- |
| | Zelda Ladan |
Links to additional information related to Women Military Veterans:
Links to other CMF podcasts featuring issues related to Veterans
Pictures
After you launch the slideshow below, click "Next" and "Previous" to rotate through the photos.

Extended Text
Event Summary — written by league member Elizabeth Murphrey:
On November 17, approximately thirty people attended the League of Women Voters Seminole Hot Topics Luncheon on the subject of helping women veterans adjust and transition to civilian society. The two speakers were Venita Garvin Valdez, Secretary of the Business and Professional Women's Foundation (BPW) and Laurie Reid, a counselor at Seminole Behavioral Healthcare.
According to literature on the subject, Florida has the third largest number of women veterans of the states, behind only California and Texas. Approximately twelve per cent of Seminole County's 38,500 veterans are women. Besides facing the same challenges as men veterans in reintegrating into civilian society, women are often disproportionately challenged by such issues as children, family obligations, and sexual trauma. They have skills such as leadership and teamwork learned in the military, but often they do not self-identify as veterans when they get out of the military and do not expect, and sometimes do not apply for the benefits available to all vets.
Venita Garvin Valdez told of the BPW Foundation's program, "Joining Forces for Women", which includes mentoring, collaboration, knowledge-sharing and reintegration assistance for returning women veterans. The BPW is particularly interested in helping women vets rejoin the civilian workforce. They are spending $50,000 on a mentoring program, which pairs returning vets with working women. The BPW also provides helpful websites for knowledge-sharing.
The second speaker, Laurie Reid, herself a Navy veteran, told of her experiences in the military, especially as one of 500 women on an aircraft carrier with 5000 men. She said that women veterans often have special challenges, including issues of privacy and pride, which make it difficult for them to seek the help they need. On any given night in Seminole County, 155 veterans are homeless—and some of these are women. There is no veterans' homeless shelter program in Seminole County.
In 2010, 315,000 women veterans used VA hospitals—that is a much greater number than in earlier years. The average age of a woman veteran is 48, whereas it is 63 for their male counterparts. VA personnel are now being sensitized to the feelings and plight of women veterans. But transition to civilian life takes time—perhaps four to seven years. It is recommended that the transition period from the military to civilian life be extended—that is, that people departing from the military become acquainted with the benefits and services available to them as vets long before they actually are discharged.