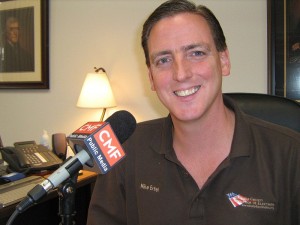 Claims of voter fraud, voter suppression, and lawsuits are all part of the election controversy swirling in Florida. Seminole County Supervisor of Elections Mike Ertel discusses these issues and the election process in the battleground state of Florida. Length - 20:00
---
Mike Ertel has been Supervisor of Elections in Seminole County for 7 years during which he has received many awards. Because in the 2012 election he has no opposition, he will continue to serve as supervisor for the next 4 years. He has been interviewed by national media about the voter purge controversy in our state. He has also spoken on election procedure to state, national and even international groups.
Florida is a pivotal state in the 2012 presidential election and it has been the focus of a storm of debate over the purge of voters from the rolls. Out of the 11.3 million registered voters in Florida, Florida governor Rick Scott's office this spring issued a list of 2600 people identified as non-citizens. Supporters assert that removing these ineligible voters will assure election fairness by reducing voter fraud. There have been 178 documented cases of voter fraud filed in Florida in the last 12 years resulting in 11 arrests. However, critics claim that the state's purge is not about voter fraud but really an act of voter suppression and a violation of civil rights especially since 80% of the voters on the list are Hispanic or black.
As of June 2012 over 500 of the 2,600 had been identified as citizens. Of the first 107 names reported purged by the state's 67 county election supervisors through late last week, a Political Pulse analysis was able to identify 94 from voter registration rolls. Of those, 33 were Republicans and 32 were Democrats. Another 25 were officially "no party affiliation" and the remaining four were of other or of unknown party affiliation. The purge took out 41 white, non-Hispanic voters, 33 Hispanic voters and eight black, non-Hispanic voters, with the rest being either other races, or unknown. It also took out 55 men and 36 women, with the rest not identifying a gender.
Polls show that Florida voters support recent efforts to purge the voter rolls of non-citizens by a 60 percent to 35 percent margin.
The federal government has filed a lawsuit against Florida claiming the voter purge violates a federal law prohibiting such actions 90 days before an election. In this case the primary on August 14. The Florida Dept of State has countered with a lawsuit demanding access to the U.S. Dept of Homeland Security's extensive database on immigrants (SAVE) in order to confirm the citizenship status of the 2600 voters on the purge list.
Principal Speaker
Additional Content related information
CMF Public Media podcasts featuring issues related to Mike Ertel