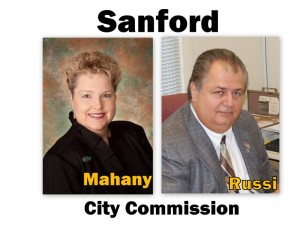 Candidates Patty Mahany and Rick Russi respond to questions regarding issues facing residents of the City of Sanford Florida where one of the candidates with the most votes will be elected on November 6 to serve a 4-year term representing district 4 of the city's 5 member governing commission. (Length – 48:09)
---
Principal Participants
Patty Mahany

incumbent candidate

Bio
Rick Russi

challenger

Web
Trace Trylko

board chairman, SACSON

Web
Rory Harris

board vice chairman, SACSON, and rector, Holy Cross Episcopal Church

Web
Patty Mahany, the incumbent commissioner, and her challenger, Rick Russi, address more than 50 persons gathered on Tuesday evening, October 9, 2012 at a candidate forum hosted by SACSON – an acronym for "Seminole Action Coalition Serving Our Needy."
This podcast is a 39-minute condensation of the extended 59-minute forum. A link to CMF's recording of the extended version is found below as well as other candidate-related external links to helpful information. Still pictures taken of the candidates at the event are also provided below.
Mahany and Russi respond to questions asked by the forum's co-moderators as well to questions selected by the moderators from among those written and submitted by the forum audience.
In this podcast, issues you'll hear the candidates address include the search for a new chief of police for the city, transparency in city government, property values and property taxes, panhandling and public feeding on downtown streets, relationships between the commission and the black community, revitalization of the downtown area, homelessness, ethics and integrity, vacant buildings in the city, the role of the communities of Goldsboro and George Town, the city budget, pension plan for the city's fire and police staff and, of course, each candidate's vision for the city and the role each intend to take on the commission if elected by voters in the city-wide race.
In the extended version, you'll also hear remarks Russi is asked to make about Mahany's effectiveness as a commissioner, Mahany's view on any of her votes she would like to "do over," and the pending issue of golf carts on the city streets.
A Sanford City Commissioner is paid an annual salary of $7,500 in addition to approximately $10,000 for expenses and benefits. The candidate, who must live in district 4 and declare it as a primary residence, and who gathers at least one more vote than the other wins the race. That candidate will take office on January 28, 2013. There are no term limits for a commissioner.
Additional Content related information
Relevant CMF Public Media podcasts
Pictures
After you launch the slideshow below, click "Next" and "Previous" to rotate through the photos.
Candidate Forum – extended version
| | |
| --- | --- |
| | Length – 58:55 |