Posts Tagged 'Voices on the Street'
The 2009 Martin Luther King Day Parade gave Oviedo, Florida residents an opportunity to celebrate the civil rights leader's achievements and to cheer and applaud the 34 groups who marched. Both marchers and watchers share their feelings about the holiday in their own words.
Feature length – 06:30
Read the rest of this entry »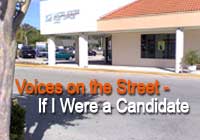 Will Rogers said "The best thing about this group of candidates is that only one of them can win." Local "voices" explain how they would craft their platforms and campaigns if they were running for city office. Listen and decide if you would pick one of them to "win."
Feature length – 05:22
Read the rest of this entry »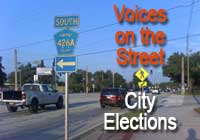 "Democracy is cumbersome, slow and inefficient, but in due time, the voice of the people will be heard and their latent wisdom will prevail." Given the upcoming city elections, it seems appropriate to put this unattributed quote to a test with voices recorded randomly on a recent Saturday morning at the Oviedo Shopping Center.
Feature length – 05:09
Read the rest of this entry »
A sound montage offering an audible journey into the First Days of School (03:32) and a civics test for Constitution Day 2009 (04:45).
Read the rest of this entry »