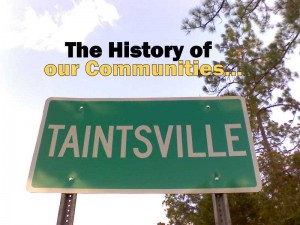 The history of a geographic area of 700 acres in Seminole County,Florida has not yet come to a close. Perhaps this is because the area is not yet history. In this on-going History of Our Communities series, we explore the Village of Taintsville through the voices of a local historian and an original "Tainstvillian." Feature length – 12:43
---
Immediately east of the city limits of Oviedo, Florida and just west of unincorporated Chuluota in southeast Seminole County there is one official road sign. Looking east, the sign is located on the south side of County Road 419 and so is a secluded lake. It's called Lake Eva. On the sign is one 11-lettter word. It spells "Taintsville."
There used to be one more sign like this one. It marked the other end of Taintsville a bit further down the road. No one has seen that other sign for quiet a while, years maybe. Yet, this one, lone sign has sparked a good deal of interest over the years. Perhaps not the actual sign, but what is stand for.
For some, it's just an eye catching name – prompting much curiosity from the occupants in cars that pass by it on CR/419 heading to Chuluota. For a few teenage pranksters, the sign or its predecessor became the object of theft or target practice or the occasional graffiti.
And for a few others — back in the days, say the 1960s and 1970's — the sign represents a story about local David's and a municipal Goliath.
In our quest to know more about this lone sign, its missing sister, and that for which both stand, we visit with two persons…each has a story to tell.
Extended Interview & Pictures
Thomas W. Chitty and Stephen McKenney Steck

Extended interview (27:36)

Karen Jacobs and Stephen McKenney Steck

Extended interview (28:43)
Additional Feature Information