Posts Tagged 'Environment'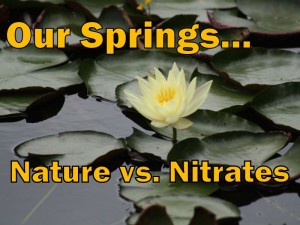 Many of Florida's springs, including Wekiva Springs in Seminole County, have high levels of nitrate contamination which has stimulated a dangerous growth in algae and water plants. Scientists Dr. Robert Knight and Dr. Todd Kincaid present their analysis of the problem,  and the research that suggests action to protect the Floridan Aquifer and the spring (length: 27:38).
---
(Produced, reported and edited by
Desta Horner
, Title photo "Waterlilly 3" courtesy Flavio Takemoto)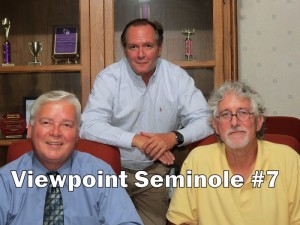 Hear the viewpoints of panel members Russ Hauck, Dr. Michael Hoover and Randy Morris the George Zimmerman verdict, toll-lanes on Interstate-4, new taxes, and the Lake Jesup Nature Center. Plus shouts, call outs and looks around the corner (length – 29:25)
---
(Produced, reported and edited by
Stephen McKenney Steck
, Event photos – Charles E. Miller for CMF Public Media)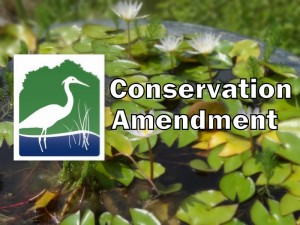 The proposed Florida Water and Land Conservation Amendment to the Florida constitution would require 33% of the state's documentary stamp revenues be set aside for the purchase and management of natural land in the state. Director Aliki Moncrief of Florida's Water and Land Legacy explains the purpose of this state-wide conservation initiative and the drive to gather petitions to support placing it on the ballot. Michelle Thatcher of the U.S. Green Chamber of Commerce discusses the economic importance of protecting the land and water of Central Florida (length - 20:11)
---
(Produced, reported and edited by
Desta Horner
. Title graphic – "Water Lilly" photo: Agata Luczak; logo:  Florida's Water & Land Legacy)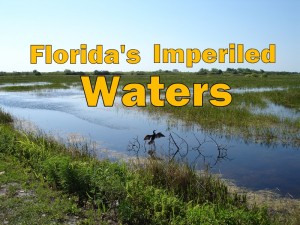 The springs, rivers and lakes of Central Florida are some of our most valued and fragile resources. A panel of experts discusses the challenges and prospects for water resources in our region. The issues include freshwater for homes, business and agriculture, the importance of a water ethic and the ways in which water is conserved and reclaimed (Length 22:50)
---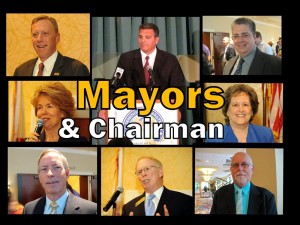 Economic growth, taxes, transportation, government efficiency and more are all part of the annual presentations by Seminole County's local government officials. The mayors of each of the county's 7 cities report to the people on the "State of the City." And Seminole County Commission Chairman, Bob Dallari, delivers his score card for the county along with an overview of the events of the Seminole Centennial.
---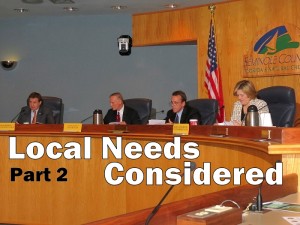 In preparation for the upcoming session of the Florida Legislature in March 2013, presentations by more than 30 local organizations were made recently to a delegation of legislators representing Seminole County, FL. These organizations are seeking state funding in public service areas that address the needs of Seminole county residents and businesses such as widening a portion of state road 434, early learning, access to healthy foods, the unlawful sale of synthetic drugs, substance abuse treatment, bullying awareness and the St. Johns River. This is an audio snapshot of 7 of those organizations making their case for consideration. (length: 31:54)
---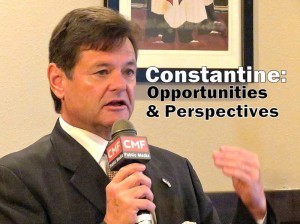 Lee Constantine speaks as the recently elected commissioner to Seminole County Florida's 5-member board of county commissioners. He addresses opportunities the county faces and he offers his perspectives gained through more than 30 years of elected service as a commissioner and mayor of Altamonte Springs, one of 7 cities in Seminole County, and as a legislator in the Florida House of Representatives and the Florida Senate. Length 25:43
---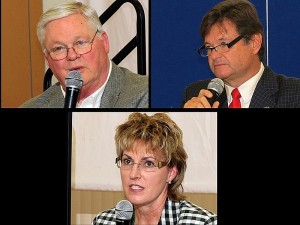 Republican candidates Lee Constantine, Kathleen Gallagher McIver, and incumbent Dick Van Der Weide are standing for election for Seminole County Commissioner for District #3. They addressed voters at a forum sponsored by the League of Women Voters of Seminole County and the Oviedo ~ Winter Springs Regional Chamber of Commerce. A fourth Republican candidate for this commission seat– Don Epps, was unable to attend this event.
---
(Produced, reported and edited by
Stephen McKenney Steck
. Still photos – Charles E. Miller for CMF Public Media.)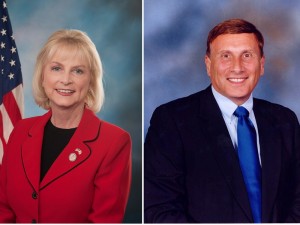 Freshman Congresswoman Sandy Adams and 20-year Congressman John L. Mica come together in this unusual face-off of two incumbent candidates vying for reelection to the same district which will now include most of Seminole County and parts of Orange and Southwest Volusia County. Length - 57:13
---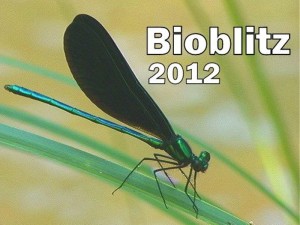 Scientists, citizen naturalists & students go into the protected uplands & wetlands of the Wekiva River Basin to document the species of wildlife & plants that can be observed living in this critically important biodiversity hotspot. On the 30th anniversary of the Friends of the Wekiva River, the teams reported their tally of species. Length 25:01
---
(Produced, reported and edited by
Desta Horner
)
Title picture - Ebony jewelwing damselfly courtesy Stephen R. Milrick, Florida Dept. of Environmental Protection