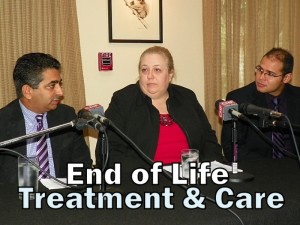 Hear subject matter experts discuss end of life treatment and care: Dr. Sanjay Muttreja, hospice & palliative medicine; Dr. Norma Conner, assistant professor, College of Nursing at the University of Central Florida; and Jorge Aguero, palliative care chaplain. Moderated by Ben Wilcox, Hemlock Society of Florida. Length- 01:26:11
---
Photos – Charles E. Miller
The panel speaks for about 1 hour and 20 minutes in response to end of life scenarios presented by the forum moderator who asks followup questions and facilitates questions asked of the panel by members of the forum audience.
End of life issues discussed include choosing the time and place for a dignified death… treatment and care options… legal issues surrounding advanced directives…involving family members…and how and when hospice care can be of help.
Still pictures of the forum as well as links to content-related documents and web pages are provided below. The forum was recorded in Orlando, Florida on October 16th, 2011 at the church of the University Unitarian Universalist Society before an audience of 25 people.
Principal Speakers
Dr. Sanjay Muttreja

Medical director for the hospitalist program, Physician Associates; and assistant medical director, VITAS Innovative Hospice Care

Dr. Norma Conner

Assistant professor, College of Nursing, University of Central Florida
Jorge Aguero

Palliative care chaplain, Florida Hospital East in Orlando
Hemlock Society of Florida host and moderator
Ben Wilcox

Executive director, Hemlock Society of Florida
Links to content related information:
Pictures
Click on the picture(s) to enlarge.