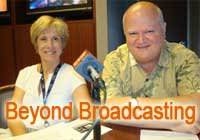 "Mashing up" technology creates new ways of delivering news and information via on-line, wireless and other electronic media. It also challenges "old media" to embrace "new media" opportunities. Hear how one local TV station is confronting new media from comments by WFTV Channel 9's Shawn Bartelt and Bob Jordan. UCF radio and TV professor, Tim Brown weighs in on the future of the mashup. And voices from the street chip in with their own perspective of "mashups."
Feature length – 8:16
---
(Produced, reported and edited by Stephen McKenney Steck)
You listen to Central Florida Matters on a digital device like your desktop or laptop computer.
Perhaps you downloaded this program direct to a more mobile device like an I-Phone or an I-Pod or, from her Blackberry; maybe a friend emailed you an Internet link guiding you to this program. What ever the manner, the pipe that sent this program to you is the Internet. As we've all become accustomed, the Internet is sort of a new media version of the old media's broadcast transmitter.
Some have told us that this program and Carroll McKenney Public Media take advantage of the Internet in what pejoratively labeled "geeks" call a "mashup". Summarizing liberally from Wikipedia – itself spawned from this new media world — a "mashup" combines forms from many technologies and many communication practices blending together or "mashing up" to create a new service.
And while Central Florida Matters on the Web may be new to us, we're only just beginning to realize that it comes to you as a result of many media trends and devices now furiously emerging in our culture. In this, our first program, we thought it appropriate to examine such "beyond broadcasting" mashups and their applications.
And when were done with the examination, were 'going to ask our neighbors' voices to give their own perspective of "mashups" — and the new and oh so social media in which they find themselves living.
The mashup begins with two practitioners of old media techniques, eagerly learning to use these new ways.
First, is Shawn Bartelt, at WFTV-Channel 9 where she serves as Vice President and General Manager, and Bob Jordan, the news director there. We also spoke to an academic trained to explain and span both worlds of new and old media Dr. Tim Brown, assistant professor of radio and television at the Nicholson School of Communication at the University of Central Florida. One of his primary teaching areas include the effects of new media on communication in society, Brown's the academic we turned-to to try to understand the mashup and what the keys to the future may hold.
Pictures & Extended interviews
Tim Brown and Stephen McKenney Steck

Extended interview (13:53)
Recorded Monday, August 17, 2009

Shawn Bartelt, Bob Jordan and Steck

Extended interview (09:29)
Recorded Monday, August 17, 2009
Additional feature information