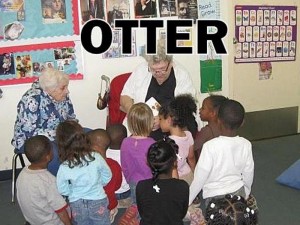 Local senior citizens read to students in the classrooms of the voluntary pre-kindergarten programs of Central Florida. Developed by the Foster Grandparents Program of Central Florida, OTTER is a unique service that makes available older volunteers like Eleanor Salmanowitz, Jean Dolan and Rita Tepfor for this experience. Jane Watkins and Megan Duesterhaus describe the origin and purpose of OTTER.
Feature length: 11:14
---
OTTER brings local senior citizens into the classrooms of the voluntary pre-kindergarten programs of Central Florida. Developed by the Foster Grandparents Program of Central Florida.
Jane Watkins, the director of Foster Grandparents Program, led the taskforce that created Otter. Megan Duesterhaus is the coordinator who established the program and recruited and trained the 25 current volunteers.
We probably can't remember when we started reading for ourselves but we probably have a memory of being read to by others. For some children in Central Florida that memory will include an introduction to books from some dedicated volunteers who come into their school to unlock the joys of reading.
The Otter program brings books and senior citizens to the classrooms of the voluntary pre-K programs in Central Florida schools. Stories of Brown Bear, Silly Sally and a Baby Beluga captivate 4 year old listeners as Otter volunteers bring the magic of reading to the classroom each week.
Eleanor Salmanowitz Jean Dolan and Rita Tepfor are three volunteers who share their experiences using the books and curriculum of the Otter program to introduce young pre-schoolers to literacy.
Each Otter volunteer is supplied with more than 20 books and a special curriculum developed by the University of North Florida's Institute for Education. The first three years the OTTER program were funded by the Winter Park Health Foundation and the past 2 years by a Walt Disney "Helping Kids Shine" grant.
Pictures from the Interviews
Additional feature information
Stacy Nemhbard at the OTTER office is eager to add to the corps. They may be contacted at (407) 298-4180 or the website: Foster Grandparent Program
The curriculum used in the OTTER program is called the Early Literacy and Learning Model (ELLM). Information on ELLM may be found at Florida Instutite of Education