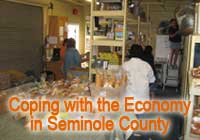 During these difficult economic times, families have been coming to the Sonshine food pantry in increasing numbers. Many are unemployed or have health issues but many have jobs that don't pay enough to meet the family's basic needs. Susan Leive, the pantry coordinator, describes the challenge of coping with the growing need and the rewards that come with helping others. Chris, a client, shares her story of struggle and hope. Feature length – 11:50

---
(Produced, reported and edited by Desta Horner)
One way people in Seminole County are coping with the recession is to turn to the food pantry to help put food on the table. Whether jobless or homeless or just not able to stretch the paycheck to cover the bills, people come to the Sonshine Food Pantry.
The problem is statewide. The Florida Association of Food Banks supplies 72 million pounds of food to more than 3000 food pantries like Sonshine each year. Second Harvest is a food bank that supplies food distributed by the Sonshine food pantry to the individual families. The local food pantries also collect donations from schools and churches. It is a combined regional/local effort.
The Hope Foundation of Oviedo operates the Sonshine Food Pantry. The foundation was the inspiration of KrissyTodd. The pantry is currently located at the Sonshine Thrift store at 149 East Broadway but will soon be moving to a new home at the Village of Hope. The pantry is open from 11am to 2pm Tuesday, Thursday and Saturday. As Susan Leive says "We don't turn anyone away."
Susan Leive and Christine Wright coordinate the collection and distribution of the food at the pantry. Volunteers collect donations, stock shelves and accompany the clients as they select the food best suited to their family's needs and tastes. The foundation has a storage facility for donations of goods which are taken to the pantry when needed to fill the shelves.
Pictures from the Interviews
Additional feature information