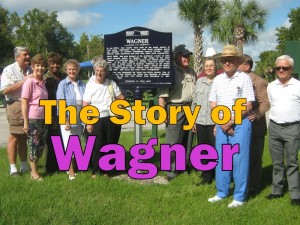 You won't find the town of Wagner in Seminole County today. Recently, the Seminole County Historical Commission erected a marker to commemorate the site of the town located in present day Winter Springs. Members of the commission discuss the town's history and Walter Hendrix offers a unique insight into his boyhood home. Feature length – 12:33
---
The Seminole County Historical Commission added another historical marker to Seminole County on August 22, 2009. It was the first marker to be placed in Winter Springs which is celebrating its 50th anniversary. But before Winter Springs the town of Wagner served as a crossroad for settlers and farmers and farm workers. Tuscawilla Road grew from an Indian trail to a main road built on an abandoned railroad bed. Produce was shift first by shallow draft boats on Lake Jesup and then by the railroad with a depot in Wagner. Farm workers planted and harvested on the large farms owned by Chase and Co.
Walter Hendrix, age 69, remembers growing up playing in the fields while his mother and aunt joined the farm crews from Sanford and Oviedo working the crops.
Many people in the area still remember the infamous "Dead Man's Curve" on the old S. R 434/419. That road was laid on top of the original brick road from Sanford to Oviedo. When the modern road was built, some of the old bricks were used for erosion control in the ditches beside the road going into Oviedo.
Our thanks to commission members Cecil Tucker, John Bistline, Ed L'Heureux and Carolyn Bistline for their memories of the area. Special thanks also to Walter Hendrix for sharing the story of his boyhood in Wagner.
While no evidence can be seen at the site, if you MapQuest the town of Wagner, Florida (see link below) its correct location and directions are listed.
Pictures & Extended interviews
Walter Hendrix

Extended interview (29:10)
Tuesday, August 25, 2009
Additional Feature Information