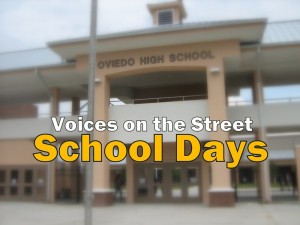 A sound montage offering an audible journey into the First Days of School (03:32) and a civics test for Constitution (04:45).

---
School Days
Feature length – 3:32
Late August and early September, in cities across Central Florida, we hear the happy voices and sounds of kids and teachers returning to school after summer break.
The sound of these young voices and attendant clamor were recorded with permission at Lawton Elementary School in Oviedo and at Oviedo High School.
Voices range from those in the cafeteria to the car line. From the crossing guard at a busy intersection to the slamming of book lockers in the hallway. And from a football scrimmage to the practice of a marching band.
Listen. Can you identify each of them?
Constitution Day 2009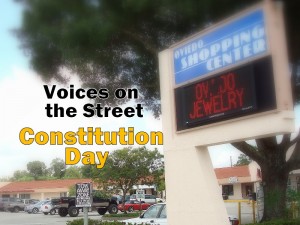 Feature length – 4:45
September 17, 1787… two hundred twenty-two years ago a document was signed containing a fifty-two words preamble to a remarkable 4,400 word document known simply as the Constitution of the United States.
It created the present government of the United States by establishing the three branches of the government, which are the Executive, the Legislative, and the Judicial branch. It also contains the Bill of Rights and other amendments which establish the basic rights of all American citizens.
The day this edition of Central Florida Matters was posted on-line is called "Constitution Day" – September 17, marking the anniversary of the day the constitution was signed by 39 delegates to the Constitutional Convention in Philadelphia, Pennsylvania.
Two hundred twenty two year later, we went to the Oviedo Shopping Center in search of Voices on the Street to hear the preamble spoken by our neighbors…and we gave each voice a bit of a civics test while we were there.
Additional Feature Information
"Voices on the Street" is a recurring sound montage on Central Florida Matters. If you know of a community location or an aural theme illustrative of your neighborhood, or a time of year, or a particular subject, the sounds of which evoke a place in time, let us know. Click on the "contact" link and advise us with an email.