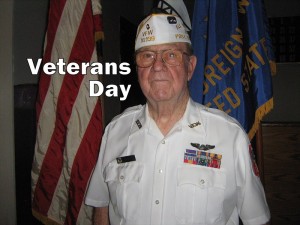 Harley M. Jones, at age 86 is a decorated battle veteran living in Chuluota. Jones served 23 years with the Army Air Corps and shares his story of courage and survival in the skies over Europe in World War II. He is one of the shrinking group of heroes from that war but his story honors all those who have served in our military branches throughout our history to defend the United States of America. Feature length – 21:32

---
The 11th hour of the 11th day of the 11th month in 1918, by most accounts, was the moment fighting ceased and ended what we know today as "World War I." Throughout most European nations, that November 11th date became known as "Armistice Day."
"Armistice" means a temporary cessation of hostilities, and while "temporary" turned to "permanent" in 1919 upon the signing in France of the "Treaty of Versailles," Allied nations from that day forward celebrated with reflection and solemn pride those veterans who died in service to their country in that "great war."
In 1926, Armistice Day was officially recognized by the United States and were it not for the fact that shortly there after World War II broke out in Europe, we might still be calling that 1918 date "armistice day."
In that second "World War," the US contributed more than 16 million Americans in the defense of freedom. As a result, the US Congresses changed Armistice Day to "Veterans Day" to more contemporarily and formally recognize all American veterans of war for their patriotism, love of country and willingness to serve and sacrifice for the common good.
In World War II, 407,000 of our soldiers died in service. 292,000 died in actual battle. On Veterans Day, November 11, we will remember them and all others who died before and since that war.
We will also salute those American veterans still living. And in south east Seminole county, particularly in the communities of Oviedo, Geneva and Chuluota, we will also salute the valor of one of the members of the Veterans of Foreign War post 10139 who, they represent, is one of the oldest and last living World War II veterans in the area.
He is but one of those American veterans who returned home alive, though not without a better understanding of mortality and the role he believes Providence played in his safe return…
At 86 years of age and in apparent good health with a vivid memory, Harley M. Jones, of Chuluota, Fl, is a decorated World War II Army Air Corps veteran of 23 years.
Harley M. Jones has a story to tell, perhaps not unlike some who lived through it and returned to share it…with the hope that such a story will add to our Veterans Day celebration and remind us of why we pause to reflect…remember…and honor.
Jones – the grandson of a Civil War veteran — was born in 1923 in Tallapoosa, a little town in North West Georgia. The youngest of 9 siblings, the Jones family moved to Atlanta and eventually to Jacksonville, Florida, where after graduation from High School as Jones puts it he took a job as a "soda jerk, delivery boy and sweeper-up."
With the attack on American soil at Pearl Harbor and the ensuing declaration of war fresh in Jones' 18 year old mind, he moved back to Atlanta in 1943 for better work in a civil service job.
Listen (above) as he tells his story
Jones went on to serve another 22 years in the military. He was honorably discharged in 1967 and worked as a US Postal clerk in Orlando until his retirement in 1997.
On Veterans Day 2009, he will be undergoing surgery to correct a cataract condition in his eye. He'll be watched over by his 2nd wife, Dorothy, whom he married 6 years ago. His first wife, Melba, to whom Jones was married for 53 years died in 1999. Melba and Harley have two daughters – Patricia and Susan. Both live in Florida. Jones is the grandfather to their 4 sons.
Jones has served several terms as the Commander of the VFW post in Chuluota Florida.
Jones — like many American veterans – past and present, living or deceased – will be celebrated on November 11…because their service to our country matters.
Extended Interview & Pictures
1943

Harley M. Jones and Stephen McKenney Steck

Extended interview (50:43)
| | | | |
| --- | --- | --- | --- |
| B-24 Crew Jones, back row 4th from left | Air Medal presentation | 2009 | |
Additional Feature Information