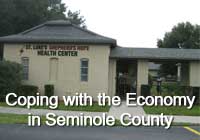 Shepherd's Hope Health Clinic of Oviedo is a free walk-in clinic located at St. Luke's Lutheran Church.  On Tuesday and Thursday nights from 6 to 8:30 pm, it provides health care services to patients who are uninsured or are unable to pay.  Staffed by volunteer doctors, nurses and community members, the clinic is meeting a critical need during this challenging economic period. Feature length – 24:18

---
(Produced, reported and edited by Desta Horner)
Shepherd's Hope Health Clinic of Oviedo was established 7 years ago to provide health care to the uninsured and those who can't afford to visit a doctor when they become sick. It is part of Shepherd's Hope of Central Florida which supports 9 clinics in Orlando and surrounding communities. These clinics have served more than 16,000 patients in the first 10-months of 2009 with the help of 2000 volunteers. This is their twelfth year of operation.
In Oviedo, the health clinic is located at St. Luke's Lutheran Church. The inspiration for its founding came from Dr. Brian Roberts, a pastor at St. Luke's who was concerned after an uninsured member of the congregation delayed treatment and died of a heart attack. The church rallied behind Pastor Roberts' suggestion to establish a clinic ministry. St. Luke's provides a facility with fully equipped exam and waiting rooms as well as rooms for a pharmacy, records and offices. In addition the church budgets $10,000 a year in support for electricity, custodial service and some supplies. The main Shepherd's Hope organization allots $70,000 to the Oviedo clinic and provides medicines to the pharmacy.
The heart of the Oviedo health clinic is the volunteers. Of the 232 people who worked at the clinic in 2008, 107 were doctors, physician assistants and nurses. Their schedules are arranged by the Clinic Health Care Managers Kathryn Soucy and Caroline Luckhart. The rest were general volunteers who register patients, check eligibility, act as interpreters and guide them through the process. Each night approximately 10 general volunteers support 1 or 2 doctors and a nurse. They see 16 to 18 patients during the 2 ½ hours the clinic is open. From January to September 2009 the clinic was open 55 nights and served 1286 patients with 4,517 total volunteer hours. Thirty nine of these volunteers have dedicated time to the Oviedo clinic since it opened in 2002. Nancy Herbon schedules all the general volunteers.
All nine clinics in the system act as free walk-in clinics and are primarily for acute care, flu, sprains, infections, etc. Patients with chronic illnesses are referred to the Primary Care Access Network (PCAN) in Orange County to receive long term care. Emergency cases like heart attacks or broken bones are sent immediately to the hospital.
All Shepherd's Hope clinics are associated with a religious organization. The Longwood, Florida clinic has five supporting churches and the Ocoee, Florida clinic is supported by a mosque. The annual budget is $950,000 which comes from donations and fundraising events. Donations may also be made to a special fund set up by St. Luke's Lutheran Church to specifically supplement the Oviedo clinic. New volunteers are welcome at any of the Shepherd's Hope Clinics.
Extended Interview & Pictures
Robbie Mattix, nurse-practioner

Extended interview (11:53)

Brian Roberts, pastor

Extended interview (14:57)

Kathryn Soucy, clinic manager

Extended interview (16:02)

Susan Donovan, volunteer

Extended interview (6:59)
Additional Feature Information