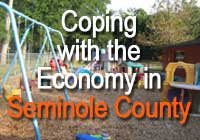 Local child care centers have felt the impact of high unemployment and tight family incomes.  Enrollment has shrunk and government funding for low income parents is hard hit.   Even as their businesses are suffering, the three owners we spoke to felt their greatest worry was for the children who were not receiving good quality services and education.
Feature Length - 16:29
---
(Produced, reported and edited by Desta Horner)
Coping with the economy has put a strain on child care centers just as it has on other businesses. As unemployment rates have climbed, parents who lose their job or have their hours at work reduced are forced to take their children out of day care.
With enrollment down and government subsidies declining, child care operators have had to find ways to cut their costs to match the reduced levels of revenue.
David Jackson owner of All About Kidz in Oviedo, Karen Nelson owner of the Oviedo Montessori School and Cindi Seda of A Tots World in Winter Springs and Longwood, are all hands-on participants in the daily work of their centers.
David Jackson came to the child care business five and a half years ago after a career in law enforcement. He bought All About Kidz three years ago and also owns a second center in Brevard County.
Karen Nelson has owned Oviedo Montessori School for more than 7 years. She offers an alternative school day VPK program at the school.
Cindi Seda was a nurse until she moved into the child care business 12 years ago. She owned and operated three centers A Tots World I, II, and III until she had to close one to consolidate during this downturn in the economy. Her knowledge and experience make her a spokesperson for child care in many instances.
Parents, through tuition, pay 50% of the cost of the care of a child in a day care center. Various government funding sources cover the remaining 50%. Community Coordinated Child Care or 4C subsidies low income families but there are waiting lists for assistance. The federal government supplies subsidies for children who qualify for free or reduced lunch service. The subsidies help improve nutrition for low income children.
Unfortunately, these funding sources do not cover the costs of providing services for many centers.
Another source of funding comes from the Florida Department of Education which sponsors the Voluntary Pre-Kindergarten program for 4 year olds. It provides 540 hours of educational curriculum to prepare 4 year olds to be "ready to learn" when they start kindergarten. This important program is funded at the rate of $4.76 /hour /child and sets high standards for teaching staff and student/teacher ratios. Since the state pays for the 3 hours in the classroom, parents only have to cover any additional hours the child stays at the center, the wrap around time." This is an attractive bargain for parents but with state funding being reduced this year, it has put the centers in a squeeze.
When their income is reduced, parents have to look for the lowest price they can get for child care. This has led to many children being cared for at a neighbor or at less expensive centers. Our three child care professionals worried that this could result in lower quality care for the children with fewer educational and social services.
Parents and providers are both hoping that as the economy improves and jobs return, the squeeze on income and revenue will ease. And the children will grow and learn in a safe secure environment.
Extended Interview & Pictures
Click on the picture(s) to enlarge.
Cindi Seda and Desta Horner

Extended interview (22:05)

David Jackson and Desta Horner

Extended interview (13:40)

Karen Nelson and Desta Horner

Extended interview (5:36)
Additional Feature Information