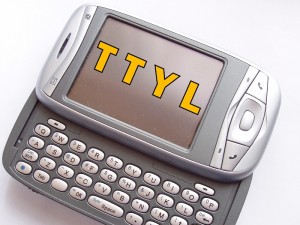 Distracted driving is a danger on the roads. Susiann Reynolds Akapelwa tells the tragic story of her mother's death in an accident caused by a distracted driver. Winter Springs Police Chief Kevin Brunelle discusses legislation and enforcement of a ban on texting while driving. (Length 18:40)
---
(Produced, reported and edited by
Desta Horner
. Title photo "PocketPC" - courtesy Tom van Beveren.)
Susiann's mother, Christy Reynolds, was an award-winning and much loved teacher at Crooms Academy of Information Technology. Shocked by her death, the students at Crooms created Reynolds' Right Hand an organization to spread the word to teens that they need to put down the cellphone in their car. Their slogan is ttyl "Talk To You Later." They have put their support behind efforts to ban texting and driving in Florida
Keeping your attention on the road can be difficult with all our electronic distractions. The minimum time it takes to read or send a text on your phone is 5 seconds. If you are driving at 55 mph you will travel the length of a football field and your eyes will not be safely watching the road.
When drivers read or send a text message, their reaction time is doubled. When asked to respond to a flashing light while texting behind the wheel, drivers were 11 times more likely to miss the light.
Today's teenagers are especially vulnerable to using phones and driving. While 97% say it is dangerous to text and drive, 43% admit to doing so. Nine in 10 teens expect a reply to a text within five minutes or less, which puts pressure on them to respond while driving when they hear the signal beep from their phone.
And adults are not good role models. According to 77 percent of teens, adults tell kids not text while driving but say adults do it themselves "all the time." In fact, 2 out of 10 drivers say they text or send e-mails while driving.
The Florida Police Chiefs Association,The Florida Sheriffs Association and other law enforcement groups have all agreed to support legislation to ban texting and driving.
Principal Participants
Kevin Brunelle

chief, Winter Springs Police Department

Bio
CMF podcasts featuring issues related to personal safety issues
Extended Interview
Susiann Reynolds Akapelwa with Desta Horner

Length – 24:30
Pictures
After you launch the slideshow below, click "Next" and "Previous" to rotate through the photos.