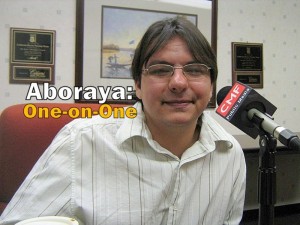 Kicking off Central Florida Matters' coverage of local issues surrounding the upcoming 2010 elections, Steve visits 1-on-1 with Seminole Chronicle community newspaper reporter, Abraham Aboraya, to assess local political issues, particularly at the city level. Feature length – 17:05

---
If you want more news about your small community than what you'll get from the major daily paper, you will read your weekly community newspaper… if you are fortunate to live in an area that has one. If you live in east Seminole County you'll most likely read the weekly Seminole Chronicle newspaper…
If you are a Chronicle reader with more than a passing interest in city and county government issues…you will come to believe that Chronicle reporter Abraham Aboraya is the Chronicle's "go to guy" for news about hyper-local political issues.
The 1-on-1 interview reveals a lot about Aboraya – and he reveals even more in the extended interview we post below.
Extended Interview & Pictures
Click on the picture(s) to enlarge.
Abraham Aboraya and Stephen McKenney Steck

Extended interview (48:20)
Additional Feature Information