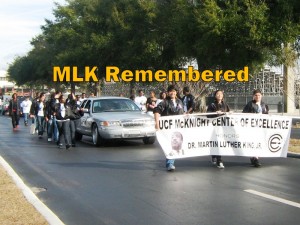 The 2009 Martin Luther King Day Parade gave Oviedo, Florida residents an opportunity to celebrate the civil rights leader's achievements and to cheer and applaud the 34 groups who marched. Both marchers and watchers share their feelings about the holiday in their own words. Feature length – 06:30

(Produced, reported and edited by Desta Horner)
Every year Oviedo celebrates Martin Luther King Day with a parade along Broadway (State Road 426). This annual event has been staged for 12 years and is co-sponsored by the Oviedo Citizens in Action and the City of Oviedo. Kathy Hunt has been the chairperson of the event for many years.
The line of march runs from Oviedo High School east to Round Lake Park. Participants include local churches, civic and educational groups, high school clubs, University of Central Florida organizations and the Oviedo High School band. The Oviedo City Council and County Commission Chairman Bob Dallari and other dignitaries rode the lead float which was shaped like a big birthday cake for Dr. King's birthday. Many of the participants riding floats or marching with signs were young people.
The large crowds along the route particularly like the candy and snacks that are handed out by the marchers. Parents bring their children for the big colorful event.
Most participants and parade viewers kept in mind the significance of the day's events. In this feature, several Oviedo residents read these quotes from Martin Luther King…
The ultimate measure of a man is not where he stands in moments of comfort and convenience, but where he stands at times of challenge and controversy.
Life's most persistent and urgent question is, 'What are you doing for others?'
Returning violence for violence multiplies violence, adding deeper darkness to a night already devoid of stars…
I look to a day when people will not be judged by the color of their skin, but by the content of their character.
Love is the only force capable of transforming an enemy into friend.
Extended Interview & Pictures
Click on the picture(s) to enlarge.