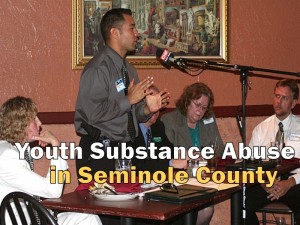 A circuit court judge, a Seminole County Sheriff's Office investigator, a gang specialist, an assistant state attorney and an elected official who was once a troubled teen discuss strategies used to deal with young people in Seminole County who are arrested on drug charges. Feature Length — 1:02:33
---
Presented by League members Jane Lane and Stephanie Schott. The 5-person panel is moderated by Wayne Weinberg.
Moderator, Panel Members & League Hosts:
Wayne
Weinberg

Moderator

Honorable
Nancy Alley

18th Circuit Court Judge and juvenile advocate

Todd Moderson

Investigator of the Seminole County Sheriff's Office

Sgt. Danny Camargo

of the Seminole County Sheriff's Gang Enforcement Unit

Dawn Courtright

Assistant State Attorney from the 18th Circuit Juvenile Division

Steve Barnes

Vice chair of the Seminole Soil and Water Conservation District

Jane Lane

League Vice President

Stephanie Schott

League topic organizer
Pictures
"Various Luncheon Pictures" Photo Credit – GK Sharmin
After you launch the slideshow below, click "Next" and "Previous" to rotate through the photos.

Additional Feature Information
Panel Discussion Summary
This summary is written by League member, Vicki DeSormier
A judge, a Seminole County Sheriff's Office investigator, a gang specialist, an assistant state attorney and an elected official who was once a troubled teen are featured in a Hot Topics forum hosted by the Seminole County League of Women Voters in October, 2009.
The Honorable Nancy Alley, 18th Circuit Court Judge and juvenile advocate; Investigator Todd Moderson of the Seminole County Sheriff's Office, Sgt. Danny Camargo of the Seminole County Sheriff's Gang Enforcement Unit; Assistant State Attorney Dawn Courtright from the 18th Circuit Juvenile Division; and Steve Barnes, vice chair of the Seminole Soil and Water Conservation District discussed the various strategies used to deal with young people who are arrested on drug charges.
Jail or rehab? That was the question of the day. And why.
"I wanted to raise awareness regarding what is really happening with our youth," said 18-yearold Stephanie Schott, who organized the program.
"This generation is having difficulty dealing with the sentences and probation that the law hands out left and right to confused kids and teens who make mistakes. Not all of these kids set out to do bad things. I'm sure if it was your kid you would understand. When it happens to you it's real. Until then, it's just something that happens in society. That's why I feel strongly that there is more to this problem than is being offered.
"This is not the end of this matter for me. I plan to help change the way the system works for these kids to help them find a better path, rather than go to 'juvie' and become better criminals," she said.
"There needs to be an option where they can feel secure and that someone wants to help them, for once. I will continue to strive for a better tomorrow for the kids who won't see one!" In Seminole County, at least, a combination of jail and rehab seems to be the norm.
Assistant State Attorney Dawn Courtright said the State's Attorney's Office has a menu of options as a child moves through the office's services that helps determine whether a defendant should be moved into the judicial system, into supervision or into rehabilitation. Through a flow chart-like system, prosecutors are able to determine which path a young person must take. There is little wiggle room if a youngster does not meet the criteria – or if they do. Everything is charted out for the prosecutors.
Judge Nancy Alley said she always tries to take the defendant's full family situation into consideration when making a decision on sentencing. Sometimes it is in the child's best interest to take him or her out of the home, she said, while in other situations, it is best to work with the family to help put the child on the right path. While prosecutors have to stick to the formula to decide between detention and rehabilitation, Alley has the ability to consider other factors when making her choice.
Investigator Moderson and Sgt. Camargo said they are seeing more serious drugs in use in Seminole County. Arrests for marijuana continue to be the most common offense, but both law enforcement officers have seen an increase in arrests for methamphetamines in recent years.
Steve Barnes said he was a rebellious teen who wound up in a detention center on minor drug charges – yet he considers it the best thing that ever happened to him. His brush with the law led him to a Christian program in Jacksonville that stressed hard work and education as a way of becoming a man, rather than the drug use he had previously used as a way to assert his independence. As a result of the program, he said, he finished high school, went on to earn two college degrees and was able to become a good father to three daughters, two of whom are enrolled in college (the other is still in high school). Different approaches to the problem of drug use among teens are necessary because each young person is in a different situation. Every person is different, each situation is unique. Jail or rehab or something completely different must be considered in each case.
Feedback
We'd like to learn what you think about Heard in Central Florida and encourage you to leave a comment on the Website. And if you know of a local speaking event on an issue you believe is relevant to Central Florida and believe it to be appropriate for this series let us know that, too. Simply click on the "contact" link found on this site and tell us about it.
And while you're on the site, please subscribe to CMF's E-Letter so we may keep you up to date on the programming and activities of Carroll McKenney Public Media. Likewise, please consider subscribing to the content using the RSS feature we provide for your feed reader or subscribe using iTunes. Once subscribed, you'll be alerted immediately to each new program we post in the Heard in Central Florida series.