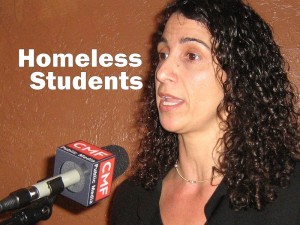 Hear Beth D. Davalos on the issue of homeless students in Seminole County Florida public schools. Ms. Davalos is the staff liaison for a Seminole County school system project known as Families in Transition. After Ms. Davalos presentation, she responds to questions from the audience. Feature Length — 44:21
---
Produced and edited by
Stephen McKenney Steck
. League event coordinators: Mercedes G. Bermejo and Patricia Graves
Selected photos: GK Sharman
Bios
Beth D. Davalos

Presenter and Staff Liaison, Families in Transition
Seminole County Florida Public School System
Pictures
Selected Pictures Photo Credit – GK Sharmin
After you launch the slideshow below, click "Next" and "Previous" to rotate through the photos.

Relevant Documents and External Links on Subjects Addressed by Beth D. Davalos
Panel Discussion Summary
At the January 28, 2010 "Hot Topics" luncheon for the League of Women Voters, Beth Davalos of the Seminole County Florida Public Schools was the guest presenter. Ms. Davalos, a school social worker, directs the program for homeless students called Families in Transition. This program provides services to homeless students attending Seminole County Public Schools.
In 2003 only 3 students were faced with concentrating on academic achievement while also facing the anxiety and embarrassment of homelessness. Today in Seminole County schools there are 904 such students and the number is rising. They come from all areas of the county, from every city. Each child must find some way to make it through the school year in a situation of insecurity and tension as their family struggles to find shelter.
In the current economic situation many families with school age children have lost their home and have struggled to find living facilities. Seventy six percent of these families end up in shared housing with all the attendant over-crowding and loss of privacy. The homeless shelter in Seminole county separates families by gender and has too few beds even then, but 9% of the students live there. Many other families live in temporary shelter in a single hotel room.
As a result, these homeless students are performing 1.7 grade levels below other students. Twenty-one percent of homeless children become homeless adults. Their social life is almost non-existent because they can't bring friends "home."
Ms. Davalos' not only presented the disturbing statistics but described the action taken by the schools to provide the unique services that these children in need. The passage of the McKinney-Vento Act set federal requirements and guidelines to meet this crisis. Services provided by Families in Transition include:
Continuation in their school of origin no matter where they moved to find shelter so they don't have to disrupt their school environment. Transportation provided
Free breakfast and lunch each day
Some new clothing, backpacks and hygiene products.
Counseling and tutoring to help with academics and behavior
Coordinated assistance from community agencies at all levels of government.
Pathways to Home, a pilot program to provide 30 case managers to serve 130 homeless families.
Many families are new to the economic crisis of homelessness and don't know where to turn. Each year the school system sponsors a Families in Transition event at Winter Springs High school where 300 volunteers and social service agencies gather to provide information and services to 900 local families who find themselves homeless or in need.
Leauge Links