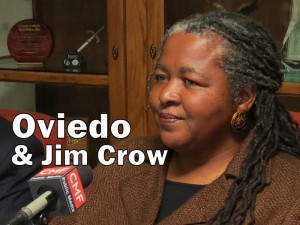 Oviedo Florida in the era of Jim Crow laws and segregation is the topic of this personal history and commentary by Judith Delores Smith. In this personal memoir, she describes the close knit colored communities in Oviedo, the segregated schools, the inspirational churches, the agricultural workers and painful incidents that often punctuated daily life (length 23:20).
---
Judith Delores Smith was born in Sanford, Florida but grew up as a 3rd generation family member in Oviedo. She is a graduate of Lincoln Memorial College in Tennessee and followed a career in social work and as a vocational rehabilitation counselor. She currently owns a business in Seminole County. She has served on many community boards and ran for the Oviedo City council. Since her conversion to Judaism, she has pursued an intense study of Hebrew both in the U.S. and Israel.
Judith Delores Smith grew up in Oviedo, Florida when agriculture was the foundation of the economy and segregation was still accepted as the structure of daily life. In this podcast she shares her memories and observations about a way of life that may be decades in the past but which touched many citizens of Seminole County on either side of the color line.
Principal Speaker