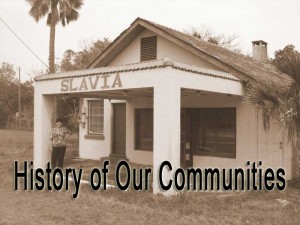 "Slavia" is the name of a community in unincorporated southeast Seminole County, Florida. Behind the name is a story of faith…"great faith," with which the founding settlers of Slavia were armed. (length – 21:44)

---
The community of Slavia nestles west of the city of Oviedo. The area is bisected by a high speed toll road known as the 417 or the Greeneway. Get a closer look at Slavia by driving a mile or two north or south on state road 426, or by riding your directly through Slavia on the Cross Seminole Trail, which runs parallel to 426 directly through Slavia. You'll see Lukas Nursery, Saint Luke's Lutheran Church, a funky pink-colored former gas station, a two story clay-colored building housing A. Duda & Sons, a water tower, and a cemetery. That's about it. But what you'll miss – because you can't see it – is the story of "faith" which grounded the founding families of Slavia 100 years ago
To experience the story of Slavia, we speak with local Slovakian descendents of two of the founding families of Slavia — Ferdinand S. Duda and Bo Jakubcin. Historic footnotes are added by resident Judy Duda and Dr. Paul Wehr, historian and author of Like a Mustard Seed
While on the website, we encourage you to visit the program archive section. Click on the category "history" and listen to other pieces we've produced about the communities of Taintsville, Wagner, Gabriella, and go along on a walking tour historic downtown Oviedo.
Extended Interview & Pictures
Click on the picture(s) to enlarge.
Ferdinand S. Duda and Stephen McKenney Steck

Extended interview (42:34)

Ivan "Bo" Jakubcin and Stephen McKenney Steck

Extended interview (59:41)

Judy Duda and Stephen McKenney Steck

Extended interview (55:30)

Dr. Paul Wehr and Stephen McKenney Steck

Extended interview (29:45)

"Like a Mustard Seed" Readings

Hear 9 excerpts from "Like a Mustard Seed," spoken by the author, Dr. Paul Wehr (21:36)
Additional Feature Information
Google map pinpointing Slavia, FL