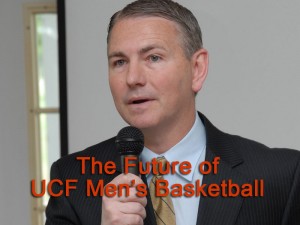 The future of UCF's men's basketball with Donnie Jones new head coach of the UCF Knights. Jones remarks on his first weeks on the job, his coaching career at University of Florida and Marshall University. (Update: Jones was fired from UCF on March 10, 2016). Feature Length — 28:01
---
Selected photos courtesy of Charles Wells Photography.
Bios
Key Participant

Donnie Jones

Head Coach, UCF Men's Basketball

Facilitating Participants

Cynthia Sucher

Chamber Board President, and Associate Vice President for Community Relations at University of Central Florida

Cory Skeates

Executive Director, Oviedo Winter Springs Regional Chamber of Commerce

Student of the Month Recognition

Karen Astringer

VP/Education Committee (OWSRCC) and President, Resilience Counseling Center, Inc.

Kevin W. Deese

Student, Winter Springs High School

Marines Rodriguez

Student, Indian Trails Middle School
Relevant Links on Subjects Addressed by Coach Jones
Additional Useful links
Pictures
"Various Luncheon Pictures" Photo Credit – GK Sharmin
After you launch the slideshow below, click "Next" and "Previous" to rotate through the photos.

Additional Event Information
In this gavel-to-gavel presentation, the Oviedo-Winter Springs Regional Chamber of Commerce presents "The Future of University of Central Florida Men's Basketball, featuring remarks from Donnie Jones in his first public speaking engagement as the new head coach of the UCF Knights. Jones' remarks were recorded Thursday, April 15, 2010 at the Tuscawilla Country Club in Winter Springs, Florida, before a luncheon audience of 125 members and guests.
His 17-minute presentation includes remarks on his first several weeks on the UCF campus, his assistant coaching career at University of Florida and his head coaching career at Marshall University, his player recruiting initiatives, his preference for "short and fast" team play, and the positive impact players have had on his own life..
After coach Donnie Jones' presentation, the remainder of the event, at a length of 4-minutes, includes a check presentation to the chamber by a prominent civic group – known as the Krewe of Leaders, and recognition by the chamber of its students of the month.
Voices you will hear facilitating this program are chamber executive director, Corey Skeates, and Cynthia Sucher, president of the Oviedo Winter Springs Regional Chamber of Commerce and associate vice-president of community relations for University of Central Florida.
This presentation marks the fourth in a series of collaborations Carroll McKenney Public Media has initiated with the Oviedo/Winter Springs Florida Regional Chamber of Commerce through a series of on-going programs staged by the chamber to address a range of important issues relevant to the business community and the general population in the Oviedo and Winter Springs communities served by the chamber.
While at the Heard in Central Florida Web site you may listen to the growing archive of previous chamber luncheon events featuring… the Oviedo and Winter Springs mayor's "state of the cities" address, an overview of high-tech innovation along the 417 Corridor, and a presentation regarding state constitutional amendments.
This series has a companion page called Central Florida Matters. Click on the orange CMF logo in the upper left of the Web page and you'll hear features important to those of us who live, work and raise our families here…because Central Florida matters!