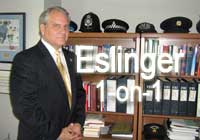 Since the county's founding by the Florida Legislature in 1913, there have been 9 sheriffs serving Seminole County Florida in that role. At age 53, Donald F. Eslinger is the 9th Sheriff. He has served 19 consecutive years as sheriff, ranking him as the 4th most tenured currently seated sheriff in Florida's 67 counties.
Feature length – 30:20
---
(Produced, reported and edited by Stephen McKenney Steck)
Donald F. Eslinger has been Seminole County's Chief law enforcement officer ever since 1991, winning reelection – by ever increasing margins in each of his 5 successive campaigns. Only Eslinger's immediate predecessor, the late Sheriff John Polk, holds the record at 21 years with the most consecutive years of service as sheriff of Seminole County…a record Eslinger is on track to break, provided of course that he seeks reelection and is elected.
From a lengthy conversation held recently in his conference room, producer/reporter Stephen McKenney Steck takes you "one-on-one" with the sheriff on such issues as his politics and his partisanship, his take on crime coverage by local media, his $96 million dollar budget, his views on capital punishment, jail management, and county crime statistics, as well as his broad enforcement powers, his politics and his personal pistol packing practices.
Extended Interview & Pictures
Click on the picture(s) to enlarge.
Donald F. Eslinger
and Stephen McKenney Steck

Sheriff, Seminole County, Florida
Extended interview (1:08:33)
Additional Feature Information