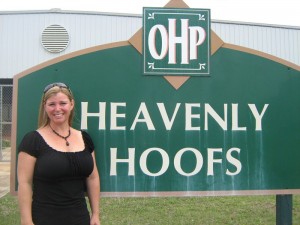 Heavenly Hoofs provides children with disabilities an opportunity to ride horses. In Kissimmee, Florida, this non-profit offers horseback riding as a form of physical and spiritual therapy for those with special needs. Listen to the children and meet the instructors and volunteers who work to share "the spirit of the horse" with kids in need. length – 17:36

---
The mission of Heavenly Hoofs is to provide equine assisted activities to enhance the mental, emotional, and physical well-being of individuals with life-threatening illnesses and disabilities.
Heavenly Hoofs was founded in 2002 by Thomasa Sanchez. She was born in Osceola County and grew up as a horsewoman true to that regional tradition. Heavenly Hoofs is a blend of those who, like Thomasa, love horses and also want to serve the community. Hundreds of volunteers donate their time to help give disabled and special needs children a chance to enjoy horseback riding and benefit from the therapy it provides. It is a non-profit organization supported by fundraisers and donations from the community.
The organization currently has 12 specially trained horses selected for their calm and gentle demeanor and instructors who are certified by the North American Riding for the Handicapped Association (NARHA). This maximizes the benefit and enjoyment of the rides while protecting the safety of the riders. Since its beginning, Heavenly Hoofs has safely served more than 25,000 children.
The horses are stabled and lessons are held on the grounds of Osceola Heritage Park. The county allows Heavenly Hoofs to use the stalls and corrals of the Silver Spurs Rodeo free of charge during the 50 weeks a year the rodeo is not in operation.
The individual and group riding/therapy sessions are one of the programs of Heavenly Hoofs. The other is The Pony Express designed to make "house calls" on children with serious illnesses or disabilities who cannot come to the arena. Miniature horses go to visit children at home and at Arnold Palmer hospital bringing a unique moment of joy in a medical setting.
The riding lesson during our visit was for children from Village Academy of Oviedo. The Village Academy is a bilingual exceptional education program for children with Autism, Sensory Processing Disorders, Speech Language Disorders and their families. It provides speech, physical and occupational therapies for special needs children. Each Friday they drive from Oviedo to Kissimmee to enjoy the benefits of hippotherapy.
Extended Interview & Pictures
Click on the picture(s) to enlarge.
Thomasa Sanchez with Desta Horner
Extended interview (11:11)
Dena Hoy and Desta Horner
Extended interview (10:47)
Caity Wall and Desta Horner
Extended interview (08:13)
Additional Feature Information