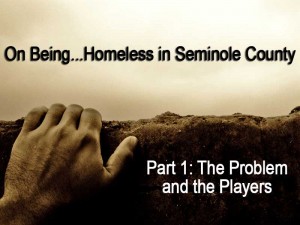 In part-1 of a new feature titled "On Being…Homeless in Seminole County," we talk with Cathy Jackson, executive director of the Homeless Services Network (HSN) of Central Florida. In a wide-ranging interview she defines the homeless problem in Seminole County and identifies other institutional players at work addressing the dilemma of homelessness. Feature length – 23:49

---
HSN is a major player in Central Florida helping to coordinate, manage, measure and partially fund a multitude of small and big service agencies in Orange, Osceola and Seminole Counties which daily grapple with aiding the homeless.
In Part-2 of the series (tentatively set to post on 5/27/10) we will feature voices from our homeless population and hear their stories. And in part-3 (to post on 6/17/10) we'll learn about possible solutions to better serve our homeless.
In 2009, close to 2000 individuals in Seminole County experienced homelessness and, according to Jackson, on any given night in the county, there are 700 homeless people sleeping in more than 70 camps or in cars or vans, behind trash dumpsters, or doubled-up with other families in apartments. Shelter beds and transitional housing beds accommodate the remainder. Jackson notes the economy and the war abroad account for a local increase in homeless numbers for families and veterans. In Seminole County public schools 1,140 students were considered homeless as of April 2010. This is an increase from 600 just 2-years ago.
Jackson says that 30% of the homeless in Seminole have been such for more than 1 year; 25% from 3-months to a year. Fifty-three percent of the homeless are white. Thirty-five percent are African-American and 20% are military veterans. Thirty percent have a post-secondary education level.
Hear more of the problem in this interview with Cathy Jackson in part-one: The Problem and the Players.
Extended Interview & Pictures
Click on the picture(s) to enlarge.
Cathy Jackson and Stephen McKenney Steck

executive director, Homeless Services Network of Central Florida
Extended interview (1:14:37)
Additional Feature Information
Additional web links presented in the order addressed in the feature interview with Cathy Jackson:
Links to features produced by CMF Public Media addressing issues related to homelessness
Other useful links