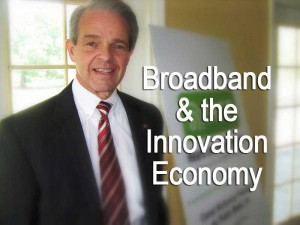 "Broadband and the Innovation Economy" featuring Joel L. Hartman, Vice Provost for Information Technologies and Resources at the University of Central Florida is the subject in this gavel-to-gavel recording of the Oviedo-Winter Springs Regional Chamber of Commerce monthly membership luncheon. Hartman's 30-minute presentation includes remarks defining "broadband" and "innovation economy," how the two are connected and their relationship to central Florida. Audience questions at the conclusion of his prepared remarks answer issues surrounding the digital divide and net neutrality. This presentation was recorded Thursday, May 20, 2010 at the Tuscawilla Country Club in Winter Springs, Florida. Feature Length — 45:12
---
Key Participant
Joel L. Hartman

Vice Provost for Information Technologies and Resources
Relevant External Links on Subjects Addressed by Joel L. Hartman (in approximate order of mention)
Facilitating Participants
Cynthia Sucher

Chamber Board President, and Associate Vice President for Community Relations at University of Central Florida

Cory Skeates

Executive Director, Oviedo Winter Springs Regional Chamber of Commerce
Phil Cloninger Memorial Scholarship Presentation
Karen Astringer

VP/Education Committee (OWSRCC) and President, Resilience Counseling Center, Inc.

Oviedo High School

Student – Tara Stanko, 12th grade at Oviedo High School

Krewe of Leaders Recognition

Krewe of Leaders
Additional Useful links
Pictures
After you launch the slideshow below, click "Next" and "Previous" to rotate through the photos.

Additional Event Information
This presentation marks the fifth in a series of collaborations Carroll McKenney Public Media has initiated with the Oviedo/Winter Springs Florida Regional Chamber of Commerce through a series of on-going programs staged by the chamber to address a range of important issues relevant to the business community and the general population in the Oviedo and Winter Springs communities served by the chamber.
While at the Heard in Central Florida Web site you may listen to the growing archive of previous chamber luncheon events featuring… the Oviedo and Winter Springs mayor's "state of the cities" address, an overview of high-tech innovation along the 417 Corridor, a presentation regarding state constitutional amendments, and comments from Donnie Jones, new head coach of the University of Central Florida Men's basketball team.