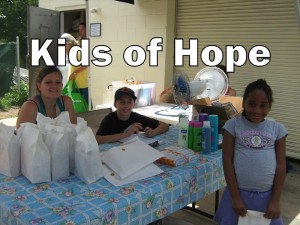 Children who receive free or reduced lunches during the school year may go hungry during vacations.  In Oviedo FL, "Kids of HOPE" provides bag lunches for those children. Christine Wright, resource coordinator for the HOPE Foundation, explains how the program operates and Darlene Campbell expresses her appreciation.  Feature length – 08:50
---
With the end of the school year millions of poor children across the United States lose their access to free and reduced lunches at school. To help fill the 9 week gap until school begins in August, the HOPE Foundation of Oviedo, Florida is again providing free bag lunches for eligible children. Christine Wright, the resource coordinator and food pantry manager at HOPE, came up with the idea after seeing children from Jackson Heights Middle School loose their summer lunch program a few years ago.
In 2009, the Kids of HOPE initiative served 300 children with one meal a week during the 9 weeks of summer break. Now, in 2010, it has expanded to 3 days a week and expects to serve 450 children. Each meal costs approximately $2.10. For families in a tough economic climate, providing an extra meal for each child each day can be a strain.
Children or their parents can pick up the lunches at the Sunshine Food Pantry in Oviedo. The bags contain a small easy-opening canned meal (spaghetti, ravioli, etc), fruit, juice and a snack. Also each child who picks up a meal can choose a book for summer reading or may receive a tooth brush or shampoo and even a small piece of candy. These little extras are gathered by HOPE to accompany the lunch.
Donations from churches, individuals and grant aid helps fund the program but the program hasn't yet reached its funding goal for the summer of 2010. Volunteer families assemble the bags and often decorate them and write a special message to place inside. The children who receive the lunches get great joy from these messages of love and support.
The HOPE Foundation website (link below) provides additional information and a chance to support this program.
Extended Interview & Pictures
Click on the picture(s) to enlarge.
Christine Wright
and Desta Horner

Resource Coordinator
Extended interview (08:38)

Darlene Campbell
and Desta Horner

Extended interview (03:29 )
Additional Feature Information