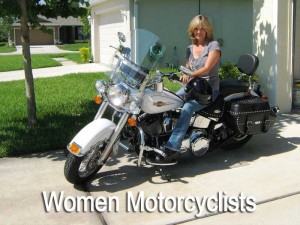 The adventurous women of the Chrome Angels of Central Florida discuss the combined pleasure of riding motorcycles and raising money for women with cancer. These bikers share their insights into this thriving women's sport which is a daily thrill for the free-spirited women motorcyclists in Central Florida. Feature length – 21:10

---
It is estimated that 10 -20% of all motorcycle owner/riders are women. From 2003 to 2008, the number of female motorcyclists increased 26 percent. The majority of those women are married and more than a quarter of them have a college degree. The median age of women riders is 42 and rising. One reason for this growth is the increase in women's income which makes owning and operating a bike as well as an automobile quite feasible.
There are real risks in motorcycle riding. The federal government estimates that per mile traveled, the number of deaths on motorcycles in 2007 was about 37 times the number in cars. Motorcyclist deaths have been rising in recent years — more than doubling by 2008 from the record low in 1997. But the rate of accidents for women motorcyclists is far below men. While 10 to 20% of women are bikers, 97% of all motorcycle accidents involved men. An increasing percentage of women riders take a safety training course when they begin riding.
The Chrome Angels of Central Florida are an independent motorcycle riding association made up of women, bound together by a love of riding and a desire to make a positive impact in their community. Their main focus is to support individual women suffering from cancer and its financial strain. The group was founded in July 2003 by Jessi "SunDancer" Sills after losing her mother to breast cancer. She wanted to do something positive in her Mother's memory and to help other women who were fighting this disease. As of this date they have contributed nearly $100,000 to assist women with cancer. Today, this group of women has about 15 active members with a positive reputation earned through its fundraising activities.
Women have been riding motorcycles across the country since the early 1900's. One of the pioneers was Bessie Stringfield known as the Motorcycle Queen of Miami. In the 1930's and 40's she made eight cross country trips. You can read about this African-American heroine and other famous women on wheels at the American Motorcycle Assoc. Hall of Fame.
Extended Interview & Pictures
Click on the picture(s) to enlarge.
Chrome Angels and Desta Horner

with Jessi Sills, Valerie Gilardi, Judy Hayes and Trish Rose
Extended interview (17:12)

Geon Demauro and Desta Horner

Extended interview (06:05)

Susan Hughes and Desta Horner

Extended interview (10:11)
Additional Feature Information