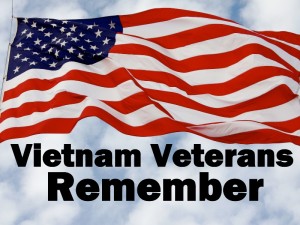 Vietnam Veterans John Blackwelder and John Malone share their experience and advice with the new veterans returning from the wars in Iraq and Afghanistan. Forty-five years separate these wars but the experiences are achingly similar and the advice is heartfelt.
Feature length 20:34
---
After 10 long and bitter years the Vietnam War ended in 1975. The current wars in Iraq and Afghanistan are about to reach the 10 year mark with more years until final withdrawal. The Veterans of that earlier conflict are now becoming eligible for social security but they still remember their days of combat. What do these older vets have to say to the young warriors returning from Iraq and Afghanistan?
John Blackwelder joined the Air Force and served in Vietnam in 1966-67 during the build up of U.S. forces in the region. He was officially stationed in the Philippines but for 28 days each month his troop was on the ground in Vietnam. This was a maneuver by the Defense Department to skirt the law which said a person who served one continuous year "in country" was no longer eligible for deployment. It was a way of keeping troops in battle for longer periods. John's experience included both combat and extremely difficult living conditions. At one point he discovered that his parents were about to be mistakenly informed of his death. A quick emergency call averted a heartbreaking visit from the chaplain. After the war, John returned to college and subsequently owned five successful businesses. He is currently retired and suffers from diabetes, coronary heart disease and other effects from exposure to Agent Orange. He lives in Lake Mary, FL
John Malone was in Vietnam in 1965-66. He was a career military officer who led two companies and a battalion in combat and also served as an advisor to Vietnamese Army soldiers. His deployment lasted 18 months. When he returned was promoted to major and became head of ROTC program at Georgia Tech. After retiring from the military, he taught business in colleges and universities. He lives in Oviedo, FL
Both these veterans urge the soldiers returning from Iraq and Afghanistan to seek out help if they find themselves feeling isolated, withdrawn, aggressive or drinking heavily. Help is available at the Veterans Administration. Or talk to their buddies or others who have been exposed to the impact of war. You're not alone.
Additional Feature Information
Extended Interview & Pictures
Click on the picture(s) to enlarge.
John Blackwelder and Desta Horner

Extended interview (38:32)

John Malone and Desta Horner

Extended interview (13:06)