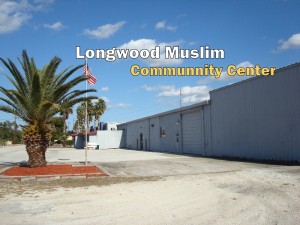 The American Muslim Community Centers has established a center in Longwood, FL. Atif Fareed, president of the center explains plans for the center and speaks to the post 9/11 atmosphere for Muslims in Central Florida. Longwood City Commissioner Joe Durso describes how the city welcomes this newest addition to the growing community. Feature length – 18:29
---
The city of Longwood will be the site of the new community center being established by the American Muslim Community Centers. It is located at 811 S. Wilma Ave. The building, which was empty, is being refurbished to provide meeting space, a prayer hall and athletic facilities. It is designed to provide meeting and recreation areas for the more than 500 Muslim families in the area. It will be similar to other faith-based facilities affiliated with churches and synagogues but it will not include a mosque.
Atif Fareed is the president of American Muslim Community Centers which is led by a board of volunteers. They felt there was a strong need for a place where Muslim families could gather and find activities for everyone from grandparents to youngsters. Mr. Fareed says the organization found a welcoming attitude in Longwood among civic leaders and ordinary citizens.
Mr. Fareed, an American citizen of Indian descent, says the center will be a strong supporter of interfaith cooperation and welcomes neighbors to visit the community center during open house when it is completed.
Longwood City Commissioner Joe Durso says the Muslim community center is a welcome addition to the city. Longwood has taken the position of encouraging new organizations and new business to come to the city. Commissioner Durso says all peaceful residents are welcome and he sees no problems for the new center.
The Islamic Society of Central Florida estimates there are an estimated 40,000 Muslims in Central Florida made up of 30 nationalities. The largest percentages are from India.
Extended Interview & Pictures
Click on the picture(s) to enlarge.
Atif Fareed and Desta Horner

President of American Muslim Community Centers, Extended interview (28:43)

Joe Durso and Desta Horner

Commissioner, city of Longwood, FL, Extended interview (10:39)
Additional Feature Information