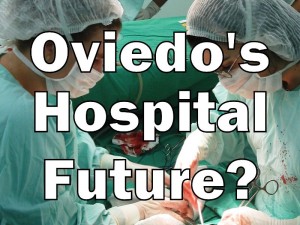 In 2014, Oviedo, FL fulfilled the first step toward a full hospital. From Oviedo Mayor Dominic Persampiere and Jeff Gregg, the state's bureau chief of Health Facility Regulation, hear the 2011 story behind a journey of regulations, permits, appeals, competition and the alternatives then for the future of a medical facility for the area. Length – 19:18
---
Some years back, the state of Florida granted a "certificate of need" to Oviedo HMA Incorporated, a wholly owned subsidiary of Health Management Associates. HMA operates approximately 14 hospitals in Florida and even more around the United States. HMA does not have a hospital presence near Oviedo. Their closest hospital is in St. Cloud to the south or Rockledge to the east, either between 38 and 44 miles away from Oviedo.
Seemingly, the great recession and a ticking clock is delaying HMA and the city from making any final announcement about the proposed 60-bed acute care hospital in Oviedo with a stated project cost of $62 million dollars… all borne by HMA and representing a major boost to the economy of the city and the surrounding area. The boost is not just from a hospital, per se, but also the accompanying new businesses that will surround and service such a facility.
Laying claim to such a hospital has been an arduous journey of regulations, permits, appeals, competition, setbacks and frustration.
With the certificate of need or CON set to expire very soon, the goal of this feature is to describe the history and ask the city might do next to achieve such an economic development goal.
Bios
Dominic Persampiere

Mayor, City of Oviedo

Jeff Gregg

bureau chief, Health Facility Regulation, Agency for Health Care Administration (AHCA), State of Florida
Pictures
Click on the picture(s) to enlarge.
Additional Feature Information
State Agency Action Report on Application for Certificate of Need (approving CON #9807P) - Link no longer active