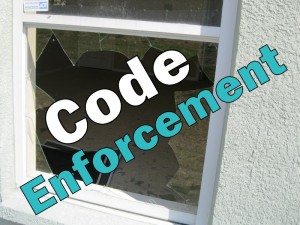 Keeping Seminole County clean, neat and livable is the job of code enforcement officers. Trash, stagnant pools and a whole lot more come under their vigilant eyes. Hear code enforcement officers Debby Leigh of Seminole County and Nathan Johnson of Sanford make their rounds responding to violations of the county and city codes. Feature length – 24:51
---
Local governments create requirements for the minimum maintenance of residential and business property. The purpose is to enhance the community and uphold property values.
Certified code enforcement officers respond to complaints and patrol their regions to identify code violations. Property owners are then given time to correct the violation. In a case where the violation is not corrected in Seminole County, a Code Enforcement Board of 7 appointed citizens will rule on the case. In Sanford the case is heard by a magistrate, an attorney, who weighs the evidence. In both types of systems, a fine can be imposed on the property owner which, if not paid, can become a lien on the property.
The current housing crisis with the accompanying increase in foreclosures has boosted the workload of code enforcement officers. These officers must not only be trained in the codes and property rights but must also be calm counselors as they interact with citizens to encourage compliance and defuse conflict. All the while keeping a wary eye out for dogs as they knock on doors.
The city of Sanford Community Improvement Department which oversees code enforcement. The director is Darrel Presley and his comments are in the link below. He explains the operation of Code Enforcement and introduces Sanford's on-line customer service called "Citizenserve" that provides the public the ability to research or submit code enforcement questions, pictures or complaints 24 hours a day. For Seminole County and most cities, complaints of code violations may be submitted by phone or e-mail and may include your name or be anonymous.
Extended Interview & Pictures
Click on the picture(s) to enlarge.
Darrel Presley and Desta Horner

Director of Community Improvement for City of Sanford
Extended interview (24:48)

Debby Leigh and Desta Horner

Extended interview (35:01)

Nat Johnson and Desta Horner

Extended interview (27:28)
Additional Feature Information