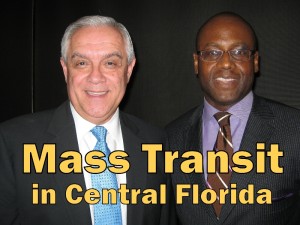 On this Heard in Central Florida, you'll hear remarks offered by two leaders of regional planning and transportation agencies. They are MetroPlan executive director, Harold W. Barley, and Lynx chief executive officer, John M. Lewis, Jr. Each discuss the role mass transit will play over the next 5-years in Seminole County and Central Florida.
Feature Length — 59:46
---
Both speakers offer opening remarks – Barley's lasting 6 minutes and Lewis' 11 minutes.
This is followed by 33-minutes of answers to questions asked by the forum moderator and attendees.
Below, please note that the Heard in Central Florida webpage offers you relevant and helpful links to content regarding issues addressed by each speaker…as well as still pictures of the event included in an on-line slide show.
This forum was held Thursday evening, February 17, 2011 at the Sanford-Lake Mary campus of Seminole State College. The event drew about 25 league members and members of the public.
Key Participants
Harold W. Barley

Executive director, MetroPlan

John M. Lewis, Jr.

Chief executive officer, Lynx
Additional Participants
Deana Schott

President, League of Women Voters of Seminole County

Alexandra Colvin

Seminole State College of Florida student moderator
Pictures
After you launch the slideshow below, click "Next" and "Previous" to rotate through the photos.

Helpful Content Links