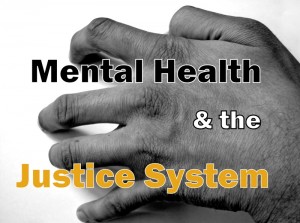 From a 2011 Seminole County League of Women Voters Hot Topics Luncheon on Mental Health and the Justice System hear  three subject matter experts — Donald F. Eslinger, Sheriff of Seminole County; Dr. Valerie Westhead, a psychiatric consultant to the sheriff's office; and John Woodard the 3rd, Seminole County Judge. Feature Length — 59:45
---
Title photo "Hand" courtesy Ramzi Hashisho.
The panel is moderated by Jim Berko, president and CEO of Seminole Behavioral Healthcare, a comprehensive mental health and substance abuse treatment center serving adults and children in Seminole County.
Each panel member discusses the status of mental health issues facing Seminole County courts, law enforcement and the mental health care profession. This takes 35-minutes. It is followed by 14-minutes of answers to questions from the moderator and luncheon attendees.
Panel Members
Donald F. Eslinger

Sheriff, Seminole County, Fl.

Dr. Valerie Westhead

Seminole Behavioral Health Care and a psychiatric consultant to the sheriff's office
John Woodard III

Seminole County Judge
Moderator
Jim Berko, president/CEO

Seminole Behavioral Healthcare
League Host
Pat Graves

Vice President, League of Women Voters of Seminole County, Fl.
Additional Text
Event Summary: Written by league member, Elizabeth Murphrey-
"Mental health care accessibility has long been a League issue. One prong of our local position is to Increase public awareness of mental health issues. And so we did for our March Hot Topics Lunch which featured Sheriff Don Eslinger, Dr. Valerie Westhead, medical director of outpatient services at Seminole Behavioral Health Center as well as psychiatric consultant to the Seminole County Sheriff's Office; and Hon. John L. Woodard III of the Seminole County Courts who handles the mental health docket.
The panel was moderated by James Berko, CEO/President of Seminole Behavioral Healthcare, Inc. It is a comprehensive mental health/substance abuse treatment agency.
There is a direct correlation between mental health and crime rate according to Sheriff Don Eslinger. He noted the murder of Deputy Eugene Gregory who was shot on duty by a person suffering from schizophrenia in 1998.
Florida is 49th in fifty states in per capita mental health spending, Eslinger said. Ten percent of calls for service are related to mental health issues, he said and 30 percent of inmates in the corrections system have mental health issues.
The panel focused on the collaborative approach developed in part as a result of Deputy Gregory's death. It brings together the Sheriff's Department, Seminole County healthcare agencies, the courts as well as the corrections systems. Sheriff Deputies, Corrections staff have been trained by the mental health professionals to recognize when a person is displaying mental health issues and can point them in the right direction. 70 percent of people with mental health issues also have substance abuse problems. Among the programs available are crisis stabilization and support; substance abuse services and detoxification.
"It's cheaper to use available resources than lifetime commitment." Dr. Westhead said. She highlighted the Clubhouse Program started in New York City for those with chronic prolonged illness that creates a place where a person can go to develop skills and get back to work. "Crime is a symptom," Eslinger said. And they are all working together to improve the quality of life.
If faced with a crisis, who do you call? If it's a threat to safety, call 911. But the Seminole Behavioral Healthcare's access line is staffed by licensed, mental health professionals 24 hours a day at 407-321-4357 or 407-321-HELP."
Additional Event Pictures
Click on the pictures to enlarge: