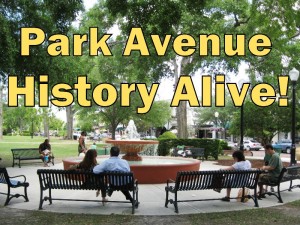 The history of Park Avenue comes alive as Winter Park, FL community leaders portray some of the earliest citizens during the 2011 James Gamble Rodgers Colloquium on Historic Preservation.  As we stroll down Park Ave Avenue we hear Kenneth Murrah, Thad Seymour, Jack Rogers, Alice Bass and Steve Schoene reenact local characters from the 1880's to 1930's.
---
Feature #1
Kenneth Murrah

as John Ergood first store owner on Park Avenue in the 1880's. (length 10:40)
Feature #2
Thaddeus Seymour

as Edward Hooker first president of Rollins College. (length 10:18)
Feature #3
Jack Rogers

as James Gamble Rogers II creative architect of Winter Park in the 1920's and 30's. (length 11:29)
Feature #4
Alice Bass

as a chambermaid in 1922 at the former Hamilton Hotel located at the site of Park Plaza Gardens. (length 8:52)
Feature #5
Steve Schoene

as George Kraft banker during the Great Depression and creator of Kraft Azalea Gardens. (length 9:30)
Pictures
Click on the picture(s) to enlarge.
The Fifth Annual James Gamble Rogers Colloquium on Historic Preservation" was sponsored by Casa Feliz Historic Home and Museum in Winter Park. The Colloquium focused on the importance of preserving the historic value of Winter Park's downtown business district. The event took place on Wednesday, April 27, 2011.
The program began at the Winter Park Farmers' Market with a presentation by Rodney L. Swink sponsored by the Friends of Casa Feliz. Swink is an expert on downtown development and community revitalization. His keynote speech was titled "Downtown Preservation: Key to Community Sustainability."
After a break for dinner, the participants gathered at various points along Park Ave. and were treated to performances by six community leaders, including Rollins President Emeritus Thaddeus Seymour, attorney Kenneth Murrah, architect Jack Rogers, architect Steve Schoene, actress Alice Bass, historian Ed L'hreux and Allen Trovillion.
Stationed at various stops along Park Avenue, they regaled participants with stories of the early days in downtown Winter Park. The stores along the Avenue had window displays featuring historic photos of the buildings through the ages. Each of the stops was at a building with a relationship to the presenters and the history of Winter Park.
The presenters in top hat, chamber maid's uniform, coveralls or fake beards shared first-person accounts of the establishment of the first general store, hotels, Rollins College and the challenges of the Great Depression. Each 10 minute presentation was repeated for groups of 10-20 participants during the evening.
Betsy Owens is Executive Director of Casa Feliz, and the many volunteers and "Friends of Casa Feliz" are dedicated to the annual Colloquium as a showcase for the history of Winter Park.