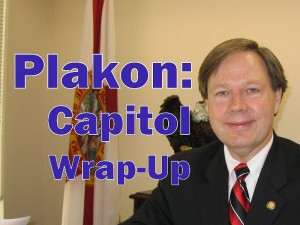 The 2011 session of the Florida Legislature adjourned at 3am on May 7, 2011 after 1443 hours of floor debate. Representative Scott Plakon (R- District 37) represents Seminole County and gives his perspective on the actions taken by the legislature. He speaks about the budget cuts, new laws he supported and his proposals of two amendments to the Florida Constitution on funding faith-based organizations and health care mandates feature length – 16:33
---
Produced, reported and edited by Desta Horner
Representative Plakon serves western Seminole County including Altamonte Springs, Longwood and Fern Park as well as parts of Orange County. He was first elected to the Florida House in 2008.
Rep. Plakon serves on the following committees:
Federal Affairs Subcommittee, Chairman
Congressional Redistricting Subcommittee
Government Operations Subcommittee
K-20 Innovation Subcommittee
PreK-12 Appropriations Subcommittee
State Affairs Committee
His current legislative initiatives include efforts to restrict or eliminate the storefront Internet "casinos" that are growing in number throughout the state.
Additional Feature Information
State Representative Scott Plakon

Republican/District #37
Florida House of Representatives
Links to other podcasts produced by CMF Public Media featuring Representative Scott Plakon
Pictures
Click on the picture(s) to enlarge.
Extended Interview
Representative Scott Plakon, Republican/District #37 and Desta Horner

Extended interview (31:36)