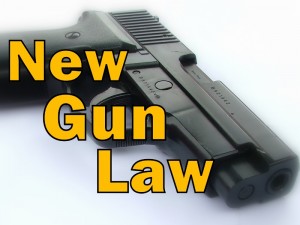 A  2011  Florida law imposes penalties on city and county governments that do not repeal local gun ordinances. Local laws prohibiting guns in parks, in government buildings or shooting within city limits were eliminated.  Supporter Rep. Jason Brodeur and opponents  Oviedo Police Chief Jeff Chudnow and Leigh McEachern discuss the pros and cons of the law (length 21:34).
---
The purpose of this new law was to augment Florida Statute 790.33 which was passed in 1987. That law established state government as the sole authority to regulate guns and ammunition, local governments were prohibited from passing ordinances restricting gun use or ownership.
However, cities and counties often ignored the law by creating local gun ordinances. Some examples are Oviedo prohibited firing a gun within the city limits, Seminole County prohibited guns in county parks and landfills or firing a gun within 500 ft of a residence. Orlando prohibited persons from carrying guns into government buildings.
Under the new 2011 law, on October 1, 2011 these local ordinances and thousands of others around the state will be eliminated. Local government officials have scrambled to repeal these ordinances because this new law imposes personal fines and criminal penalties on officials if the local gun laws are not wiped out. Local officials can even be removed from office if codes are not purged.
But there is great controversy over whether this new law is a disregard of public safety or a long overdue protection of constitutional rights under the 2nd amendment. Many local officials complain that it is a violation of home rule and prevents them from setting ordinances that they deem necessary for safety in their locale. But supporters argue that local ordinances don't reduce crime but do infringe on legal gun owners rights.
The following are some of the ordinances in Seminole County that have been repealed as a result of the new gun law.
Oviedo – prohibit the discharge of firearm in city limits.
Winter Springs - prohibit firing a gun on city street of public grounds
Sanford – prohibiting firing a gun in city park.
Seminole County – prohibiting firearms in county parks, landfills or discharge of firearm within 500ft of residence
Firearms are still prohibited on all school campuses at all times. And state law prohibits carrying a gun without a concealed weapons permit, the use of firearms in an unsafe manner or firing from a vehicle.
Additional Feature Information
Jeff Chudnow

Police Chief City of Oviedo Florida

Jason Brodeur

Florida state representative ( R/district 34)

Leigh McEachern

Retired undersheriff, Orange County, Fl.
News Articles on Florida's New Gun Law
Extended Interviews
Representative Jason Brodeur with Desta Horner

Length 10:27

Jeff Chudnow, Police Chief of city of Oviedo with Desta Horner

Length 15:23

Leigh McEachern, retired undersheriff , Orange County, Fl. with Desta Horner

Length 09:29