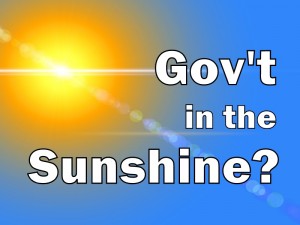 Florida's Government in the Sunshine laws are celebrated annually in the state during a week in March known as Sunshine Week. This feature brings together a collection of 6-voices speaking about their experiences with Florida's Sunshine law, particularly from a local level. Length: 24:04
---
With some exceptions, Florida's constitution gives you the right to inspect or copy any public record made or received in connection with the official business of governments in Florida including our cities, counties, school boards and all entities created by law or the constitution. Additionally, all meetings of any of these bodies at which official acts are to be taken, discussed or transacted shall be open and notice provided to you.
You'll hear from a state wide watchdog foundation, and locally, from a news editor, a media lawyer, 2-elected officials and a former city manager — each experienced in the nuance of open records and open meetings of your local and state government.
Principal Participants
Barbara Petersen

President, First Amendment Foundation

Bob Shaw

Editor, government and politics, Orlando Sentinel

Dr. Michael Abels

Former city manager, instructor, UCF School of Public Administration

James Lussier

Attorney, Mateer & Harbert

Bob Dallari

Commissioner, Seminole County Board of County Commissioners

Charles Lacey

Mayor, City of Winter Springs, Fl.
Content related web sites: