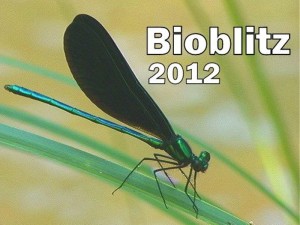 Scientists, citizen naturalists & students go into the protected uplands & wetlands of the Wekiva River Basin to document the species of wildlife & plants that can be observed living in this critically important biodiversity hotspot. On the 30th anniversary of the Friends of the Wekiva River, the teams reported their tally of species. Length 25:01
---
(Produced, reported and edited by
Desta Horner
)
Title picture - Ebony jewelwing damselfly courtesy Stephen R. Milrick, Florida Dept. of Environmental Protection
Dr. Jay Exum president of the Friends of the Wekiva River and principal ecologist with AECOM was the leader of Bioblitz 2012. He recruited hundreds of scientists and volunteers in this fieldwork which would highlight the biodiversity of the basin and the importance of its long-term preservation.
Taxonomic teams were created to concentrate on separate categories of species. At the presentation, each of the taxa team leaders reported on the number of species, the health of their habitat and described of the most unique wildlife they found. The climax of Bioblitz 2012 was the announcement of the final total of species observed in this lightning fast survey of the Wekiva River Basin.
Principal Speaker
Additional Speakers heard at the Bioblitz Tally
Plants: Randy Mejeur, botanist; associate principal, AECOM
Aquatic Invertebrates & Fish: Gary L. Warren, principal scientist, Fish and Wildlife Research Institute, Florida Fish and Wildlife Conservation Commission
Terrestrial Invertebrates: Derek A. Woller, entomologist, University of Central Florida, Song Lab
Reptiles and Amphibians: Paul Moler, state herpetologist, Florida Fish and Wildlife Conservation Commission.
Birds: Lorne Malo, senior regulatory scientist, St. Johns River Water Management District
Mammals: Jack Stout, professor emeritus - biology, University of Central Florida
Ecological Systems Reed F. Noss, conservation biologist, University of Central Florida
Additional Content related information
CMF Public Media podcasts featuring issues related to Florida's environment
Pictures
After you launch the slideshow below, click "Next" and "Previous" to rotate through the photos.