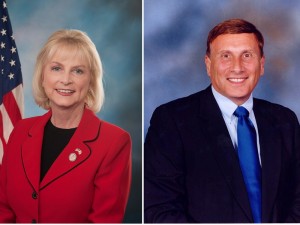 Freshman Congresswoman Sandy Adams and 20-year Congressman John L. Mica come together in this unusual face-off of two incumbent candidates vying for reelection to the same district which will now include most of Seminole County and parts of Orange and Southwest Volusia County. Length - 57:13
---
Twenty questions are asked of two seated members of Congress running against each other for re-election to a newly shaped district in the heart of central Florida. Congresswoman Sandy Adams and Congressman John L. Mica will face each other in the August 14, 2012 Republican primary for the new district-7 seat in the U. S. House of Representatives for a two-year term at an annual salary of $174,000.
This debate is the first for the two Republican candidates. It was hosted by the Tiger Bay Club of Central Florida and held Tuesday, June 12, 2012, before an audience of more than 200 local political advocates. The debate is moderated by Mike Synan, a political reporter from the local Fox35 TV station – WOFL. Tiger Bay Club first-vice president Claramargaret Groover opens and closes the event.
In this 50-minute debate, Adams and Mica respond to moderator-asked questions on such subjects as leadership differences… Social Security retirement age eligibility… health care reforms… political role models… energy policy… bipartisan collaboration… a war against Iran… tax cuts…and deficit reductions.
The candidates are also asked several questions by members of Tiger Bay about the dust-up between each regarding competing in the same district… the debt ceiling… tax increases… and local bus transportation routes to the new Veterans Hospital in the Lake Nona area.
The winner of the Republican primary will go on to face the winner in the Democratic party primary between either Jason H. Kendall from Altamonte Springs or Nicholas Ruiz the third from New Smyrna Beach, as well as write in candidate Fred Marra from Lake Mary.
Scroll down this page for web links to each candidate's resume as well as links to their congressional office and campaign site. Still pictures from the event are also included in an on-line slide show.
Mike Synan

Debate moderator, and political reporter, Fox35/WOFL-TV

Fox35/WOFL-TV | Bio
CMF Public Media podcasts featuring issues related to Sandy Adams
Pictures
After you launch the slideshow below, click "Next" and "Previous" to rotate through the photos.