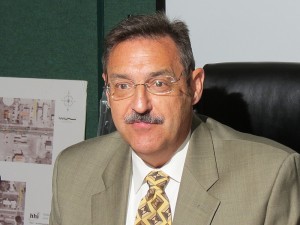 Moving the City of Sanford, Florida forward will be a major role for Interim Police Chief Richard W. Myers. A council of local governments asked Myers to speak to that in light of the controversy surrounding police investigations of the February 2012 death of Trayvon Martin by admitted slayer – neighborhood watch volunteer George Zimmerman. Length – 18:22
---
Richard W. Myers addressed members of the Council of Local Governments in Seminole County on Wednesday, June 6, 2012 at Sanford city hall. In this 12-minute condensed report, you'll hear Myers' address such issues as his credentials; the differences between an "interim" and an "acting" chief of police; the key elements of his two major goals; and his initial assessment of the department. Myers concludes with suggestions for council members and their respective government structures on how they might apply lessons he's learned from his ground zero experiences.
CMF Public Media recorded the entirety of Myers' 19-minute remarks. A link to it is available below in addition to a collection of still photographs taken during that meeting.
Myers involvement with the police department comes amid much community and nation-wide controversy surrounding the manner by which the Sanford Police investigated the February 2012 local murder of Trayvon Martin by admitted slayer – neighborhood watch volunteer George Zimmerman.
The former police chief, Bill Lee – who was administratively in charge during the time of the murder and under whose watch most of the investigation took place — was given administrative leave after Sanford City council denied his volunteered resignation in light of that controversy.
Subsequently, city manager Norton Bonaparte, Jr. recruited the 57 year old Myers to the interim position of police chief.
Myers' role – according to Sanford Mayor Jeff Triplett's remarks to the media – is to initiate an "A-to-Z review" of the department from the ground up. Triplett noted that Myers will be paid almost $10,000 a month for a short period of time to provide the department critique.
Myers, who has been a police chief in various cities since 1984, has recently completed a review of the Manitou Springs, Colorado police department where he served as the interim Chief.
Pictures
After you launch the slideshow below, click "Next" and "Previous" to rotate through the photos.
Extended Remarks
Richard W. Myers

Length – 19:23
Additional Feature Information