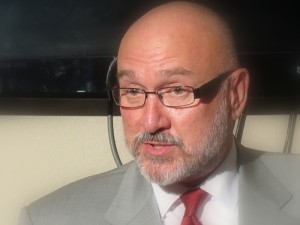 Criminal defense attorney William J. Sheaffer addresses Florida's "stand your ground" law in light of the possibility of its application to the defense of Sanford resident George Zimmerman in connection with Zimmerman's arrest on charges of second degree murder surrounding the death of Trayvon Martin. Length - 46:07
---
(Produced, reported and edited by
Stephen McKenney Steck
Still photos – Charles E. Miller for CMF Public Media)
CMF Public Media recorded Sheaffer's remarks made at a recent luncheon meeting of the Seminole County League of Women Voters to which he was invited expressly to address that law and the issues surrounding it. Sheaffer's remarks last 24-minutes, followed by 16-minutes of answers to questions on the law asked by League members.
Attorney Sheaffer's law practice includes defenses for a wide range of serious felonies, from murder in the first degree, conspiracy and drug trafficking charges to sex offenses and complex white collar crime cases.
Outside of the courtroom, most recognize Sheaffer from his local television role as a legal analyst for Orlando's ABC news affiliate, WFTV/Channel 9. There he gained recognition for his explanations and insights regarding the Caylee Anthony murder trial amid almost two years of local and global media attention that trial brought to Central Florida. Today, Sheaffer continues his analysis for WFTV in the George Zimmerman case and the implications the "stand your ground" law has had to the charge and pending criminal trial.
Sheaffer's remarks were made to an audience of 25 members of the league at its Thursday, June 28, 2012 monthly luncheon held at the Patio Grill in Sanford, Florida as part of the league's Hot Topics Luncheon facilitated by League president, Jeanne Morris
Below are links to the "stand your ground" state statute as well as a link to the articles from the Tampa Bay Times newspaper to which Sheaffer refers. Still pictures from the event are also included in an on-line slide show.
Principal Participant
Links to additional feature information
Pictures
After you launch the slideshow below, click "Next" and "Previous" to rotate through the photos.
Event Summary – by Patricia Graves, communications co-chair, League of Women Voters Seminole County

On June 28th, the Seminole County League of Women Voters hosted a Hot Topics Luncheon at the Patio Grill in Sanford exploring the topic of the "Stand Your Ground' statute. William Sheaffer was the featured speaker.
Sheaffer started his remarks with background on traditional self-defense law and the Castle doctrine, noting that self-defense and the use of deadly force in self-defense dates back to English Common law. Florida's non retreat law (Stand Your Ground) is an expansion of that Castle doctrine, with some clauses in it that are problematic for law enforcement and the judicial system.
Sheaffer explained some of the ambiguities of the law and how they have been applied by defense lawyers for their clients. He recommended listeners read a Tampa Bay Times article (link provided above) that covered how the Stand Your Ground statute was being applied in cases where there was deadly force used.
According to Sheaffer, the statute now moves law enforcement into the unenviable position of lawyer and judge when investigating a crime. He provided further expansion with various examples.
Stand Your Ground also creates a 'mini trial' called an immunity hearing which is only heard by a Judge, where the burden of proof is on the defendant. Further differences between a trial and immunity hearing were explained by Sheaffer.
He mentioned that the discussion to keep, amend or repeal the law runs along political party lines and is strongly supported by the National Rifle Association gun lobby. The number of Floridians who are authorized to carry guns has tripled since the Stand Your Ground statute was passed into law, surpassing 1.1 million people. He contends that this has had the unintended effect of emboldening people to resolve differences by shooting first.
The audience questioned how the law is applied and what determines guilt or innocence. Sheaffer said that the outcome really depends on the jurisdiction, judge, prosecutors, and ultimately jurors because this law is so subjective. He cited several examples from the Tampa Bay Times article that showed how subjectively this law could be applied. Another questioner asked about the legislative history of the law – what was the original intention and the unintended consequences of the law.