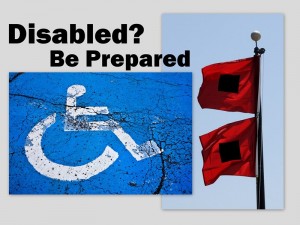 When a hurricane, tornado or manmade disaster hits, disabled residents are particularly vulnerable. Seminole County Emergency Manager Alan Harris discusses the assistance available at the special needs shelters and the unique services from transportation to medical care available to disabled people. He also gives advice on the preparations all residents should make before the emergency strikes (length – 20:00)
---
(Produced, reported and edited by
Desta Horner
, Title montage – wheel chair icon photo – "Handicap Cracks" courtesy Nicolas Raymond at
freestock.ca
)
The Seminole County Office of Emergency Management is responsible for developing and implementing the county's comprehensive disaster response and preparedness. A key aspect of their emergency preparation is assisting disabled citizens with their special requirements.
Special Needs Individuals are those with health or medical conditions who meet the program criteria or need transportation assistance during an evacuation.
The Seminole County Special Needs Program is a voluntary program that should be considered by individuals who have NO alternative than a public shelter or, need transportation to a shelter. The Emergency Management Division recommends that individuals with special needs should consider first sheltering with relatives or friends prior to the use of a shelter. Any person qualified for this program should sign up with the special needs registry. See link below.
In an emergency or disaster, individuals electing to use a Special Needs shelter, or any public shelter, should bring cots, bedding, medicine and medical supplies and food supplies for each person to be self sufficient for at least 72 hours. Seminole County Special Needs shelters are mainly in elementary schools.
Principal Participants
Additional Content Related Information
Pictures
After you launch the slideshow below, click "Next" and "Previous" to rotate through the photos.