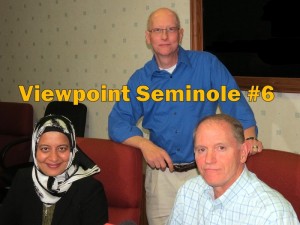 Hear the viewpoints of panel members Dr. Michael Abels, Steve Barnes and Saima Qureshi, M.D. on the Supreme Court's decision on same sex marriage, the battle over Immigration Reform in Congress, and the real meaning of patriotism and love of country for citizens of Seminole County (length – 26:16)
---
(Produced, reported and edited by
Desta Horner
, Event photos – Charles E. Miller for CMF Public Media)
Welcome to the sixth edition of Viewpoint Seminole, a monthly podcast featuring a panel of Seminole County voices sharing their viewpoints about current issues confronting our communities.
After discussing the latest issues, panelists offer a brief congratulatory "shout out," a constructive "call out" on other issues of their choosing and each "look around the corner" on local issues they will follow in the months to come
This edition of Viewpoint Seminole was recorded on Friday, July 5, 2013. It was edited by the moderator for brevity and focus. The views and opinions expressed on Viewpoint Seminole are those of the panelists.
Viewpoint Seminole Panel
Steve Barnes

Former journalist for the Sanford Herald, Orlando Sentinel and the Associated Press. He's held elective office as a commissioner for the Seminole Soil and Water Conservation Board and in 2010 ran for a seat in the Florida House of Representatives. He is the most recent former chairman of the Democratic Party of Seminole County.

Bio
Saima Qureshi, M. D.

Former pediatrician and medical toxicologist, recently retired to pursue her avocation as an artist. Born in Pakistan, she moved to Central Florida with her husband and children in 2008. She is a founding member of the Muslim Women's Organization of Orlando and a member of the American Muslim Community Centers located in Longwood, FL.

Bio
Dr. Michael Abels

Instructor in public administration, University of Central Florida, with an extensive level of experience in local government having served 17 years in city manager roles in Deland, Palm Bay & Longwood, Florida

Bio
Desta Horner

Moderator, senior producer - CMF Public Media

Bio
Click here for a roster of all Viewpoint Seminole panel members
Each month, CMF offers Viewpoint Seminole as a forum for civil and informative local commentary from a panel of credible local voices that have a stake in Seminole County. Each month we'll call upon the panel's experience and insight and listen as they offer their "point of view" on the politics, policy, people and consequences that affect those of us who embrace life in Seminole County.
Photographs of the panel taken during their discussion are presented below in an on-line slide show.
You may email a link to this feature to those you know who have an interest in the issues discussed. Use the "share" option below. And "reply" below to CMF Public Media with your comments about this feature, adding suggestions about issues you believe worthy of future discussion by panel members.
Previous Viewpoint Seminole Podcasts
Note:
CMF takes care to recruit and impanel members who are local to the area. Though still in formation, the full group of 10 members, when viewed as a whole will reflect a broad array of ethnicity, age, gender and life style. As a whole, they will reflect a perceived level of current or former community involvement, life experiences and familiarity with broad community issues and standards.
CMF also takes care to avoid or disclose a panelist with known conflicts of interest relative to the issue being addressed. Excluded from participation as a panel member are current members of local media and currently serving elected or government-appointed officials.
Viewpoint Seminole panel members participate voluntarily and without financial compensation from CMF as does the CMF producer/moderator.
Pictures
After you launch the slideshow below, click "Next" and "Previous" to rotate through the photos.